It has been a tumultuous year and a half for Australian rock fans with no new international tour announcements but that changes now. With the governments four phase plan underway, which anticipates more flexible travel for internationals by early 2022, Silverback Touring is saying "f**k it" and taking the Covid bull by the horns and wrestling it to the ground for a 1,2,3 count.
Silverback Touring is going hard in early 2022 and bringing you the ultimate Rock Package by delivering two of the hottest live bands on the planet BUCKCHERRY and FOZZY.
BUCKCHERRY recently dropped theirincredible new and possibly best yet, album Hellbound and just this week a stunning new video and single 'No More Time'. Whilst FOZZY have been tearing up the U.S. Billboard charts with their latest single 'Sane' whilst their anthemic track 'Judas' continues to amass huge numbers.
Multi-Platinumselling rockers BUCKCHERRY return to Australia armed with a new album Hellbound. BUCKCHERRY staunchly uphold the commandments of rock music with an arsenal of anthems primed to explode on impact live on stage and teeming with riotous energy, sexy swagger, and primal chops intact.  It's something that the boys have done since day one, but it's more necessary now than ever. With an array of classic such 'Lit Up', 'Crazy Bit*h', 'Sorry', 'Say F*ck It' and 'All Night Long', BUCKCHERRY are ready to once againparty down under.
BUCKCHERRY is unique, complex, simple, passionate, explosive, original, and always a good time. BC has been my love, my pain, my passion and I'm so proud of what we have accomplished. I never knew when I started this that dedicating myself to music would be taking on so much responsibility. For a guy who never thought he was going to live past 30 this has been an incredible journey. Our ninth record Hellbound marks 22 years since our debut self-titled release and what an amazing roller coaster we have been on. From hit songs to platinum and gold records and millions of fans worldwide – all during a time period when traditional sounding hard rock bands didn't exist – except for BUCKCHERRY. We beat the odds and built our reputation on the live shows, and our "one of a kind" approach to every opportunity. – Josh Todd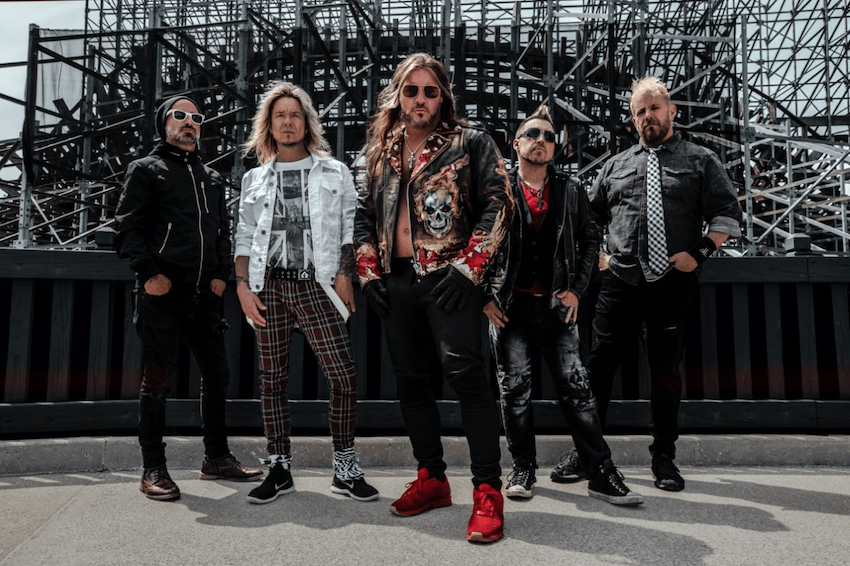 After touring the world with the likes of Metallica, Kiss, Iron Maiden, Avenged Sevenfold, Shinedown and building a loyal fanbase for the better part of twenty years, FOZZY is the epitome of what a great rock n roll band should be: catchy, groovy, hooky, sweaty and most importantly, an AWESOME F**KIN TIME! With five consecutive TOP 30 singles, FOZZY is steadily becoming one of the most successful bands on Modern Rock Radio.
Rich Ward leads the band and is one of the most versatile, talented riff machines & songwriters in rock n roll today. Chris Jericho's skills as a frontman are second to none and his vocal style & range are both unique and instantly recognizable. The powerhouse drumming of Frank Fontsere is the cornerstone of FOZZY's sound, along with the blazing solos of Billy Grey and the rock star energy of new bass player, PJ Farley. These are five legit rock stars, whose energy and charisma light up every stage they play on and every crowd they perform for. As a result, it's no surprise that FOZZY has skyrocketed into one of the hottest rock acts in years.
BUCKCHERRY and FOZZY February 2022 Australian Tour Dates
Mon 21 Feb – Perth – Amplifier * Fozzy not appearing
Tue 22 Feb – Adelaide – The Gov
Thu 24 Feb – Brisbane – The Triffid
Fri 25 Feb – Sydney – Max Watts
Sat 26 Feb – Melbourne – Max Watts
TICKETS:
Silverback Members Pre sale: Fri 30 July at 9am – Sun 1 August 5pm
General Public On sale: Mon 2 August at 9am
From: https://www.silverbacktouring.com.au/buckcherry-fozzy-australia-2022/