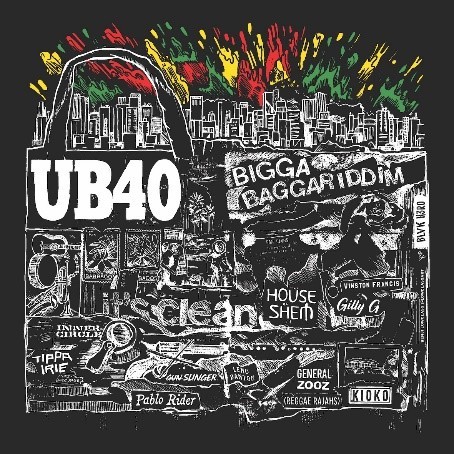 I had the pleasure of listening to UB40's latest offering "Bigga Baggariddim" and what a beautiful release this is.
For over 40 years, the Birmingham-based band, and the UK's biggest reggae group to date, have been creating amazing music that has been loved the world over. Having sold over 100 million records worldwide, and with over 50 singles in the UK charts, hits like "Red Red Wine" and "Can't Help Falling in Love" are amongst the first songs that come to everyone's mind whenever reggae music is discussed.
The new album features 15 tracks made in collaboration with a wide variety of artists spanning four continents. Artists like House of Shem, Tippa Irie, Black Hero, Inner Circle, Pablo Rider, Kioko, Gilly G, Slinger, Winston Francis, Leno Banton and General Zooz (Reggae Rajahs) have all added something special to the songs.
Such diversity demonstrates UB40's passion for reggae and their belief in its cultural importance, while at the same time introducing numerous talented, but underexposed, artists to the mainstream audience. The sheer talents involved are impressive and made me keen to hear the songs, one after the other, as the album never felt dull.
New Zealand roots reggae band House of Shem, whose frontman, Carl Perkins, was a long-time friend of the band, feature on "Message of Love" (below). Although very ill, Perkins was determined to finish the 3 tracks he and his sons contributed to the project before he passed away. This just shows the level of respect these artists have for UB40 and their eagerness to be involved.
In the current music scene, dominated by pop songs of various quality and content, listening to "Bigga Baggariddim" is very refreshing. You can play it at any time, in front of kids or friends alike, without the need to censor anything and just enjoy the inspiring songs that have great melody, positivity and danceability.
What I particularly like is how the entire album feels cheerful, uplifting & warm. It is uniquely balanced – the beats/rhythm keep you hooked, the lyrics are simple yet moving, while the singing keeps you entertained. It's the kind of music we all need during these difficult times as it is filled with songs about love, good vibes, hope and unity. Enjoy the video below, featuring General Zooz, and you will see what I mean. You will be smiling, singing along and feeling good before it ends.
"Bigga Baggariddim" is not only a must-have for any reggae connoisseur, it is also a great way to introduce what some people call "cool music" to newcomers of the genre. As for me, I am definitely going to keep this album at arm's reach!
© PRAJWOL BHATTARAI (Silver Fox Photos)
Purchase the album HERE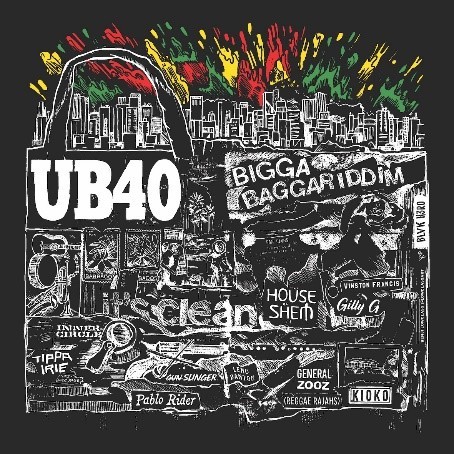 ALBUM TRACK LIST
Good Vibes Tonight – UB40 / House of Shem
On The Road – UB40 / Tippa Irie
Gravy Train Is Coming – UB40 / BLVK H3RO
Rebel Love – UB40 / Inner Circle
Did You See That? – UB40 / Pablo Rider
You Don't Call Anymore – UB40 / KIOKO
Me Nah Leave Yet – UB40 / Gilly G
Love You Now – UB40 / House Of Shem
Mi Life Action – UB40 / Slinger
My Best Friend's Girl – UB40 / Winston Francis
Message Of Love – UB40 / House Of Shem
I'm Alright – UB40 / BLVK H3RO
Show And Prove – UB40 / Leno Banton
What Happened To The Have Not's? – UB40 / BLVK H3RO
Roots Rock Reggae – UB40 / General Zooz (Reggae Rajahs)
For more details about the background of the artists who have collaborated click HERE
For details about their upcoming Australia tour in 2022, click HERE
UB40 website: https://ub40.global/