How I love a virgin gig! You know the band and the music, you have heard the reputation but you are yet to watch them live and in full flight.  Such was my anticipation leading up to this Darkness gig at the Enmore Theatre in Sydney. I knew the stories, read all about the many years worth of shenanigans and had been told about the old school Sydney Gaelic Club concert from many moons ago so I knew I was in for a cracking night full of guitars, hair, flamboyance and good old rock and roll….oh….and some boobs…. and some underwear…. but I'll talk about those later.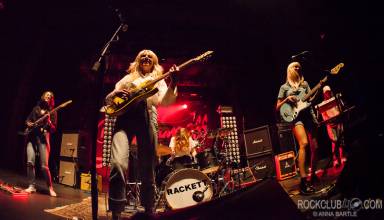 Where to start while it's all still PG… A packed house at the Enmore with glorious crowd vibes. You don't get glorious crowd vibes at some gigs and at other gigs they stand out, the atmosphere is different, there is a positive vibrancy. This, mixed in with lots of hair, men, women, parents and kids, was the making of a very special night. And bless those parents that are indoctrinating their kids to some real rock and roll that just happens to be from this century. Most rockers that I see are already within or verging on pension age, so it's refreshing to see some younger (yes they are younger) groups tearing it apart, but tearing it apart very, very well. The lovely ladies from the support act 'Rackett' were fantastic, a perfect choice to set the scene for some Darkness mayhem. You girls rocked it and hopefully we get to see more of you out on the scene.
And then it was time. I was wondering about Justin's evening attire and which jumpsuit selection we would have gracing our stage tonight, so when I finally saw the lovely blue possible PVC jumpsuit it didn't disappoint. You look fantastic Justin, healthy and happy, bravo! I couldn't wait to watch and absorb and hear you all smash it. And smash it you did, with 'Black Shuck' kicking the first song door in with that familiar guitar intro and eventual unique and famous soaring vocals. Wow, these guys aren't just very good, they're wicked. This is my type of live gig and now I know why their reputation precedes them. Watching music clips is one thing, but this is an extremely talented band with a  genuine lead singer who was born to strut. It's natural and instinctive and another one of those 'the stars have collided' scenarios where it's meant to be. Thank God that they have found their way back to each other in the last few years after a past break up and distractions. This is one band we need, that the world needs, damn it!
The band rocked it through songs like  'Growing On Me' , 'All The Pretty Girls' and 'Roaring Waters' before we had one of those rare moments in a gig when an audience member gets called up on stage but actually fits in, in an odd way. The lovely little tap dancing girl, Jess, who commanded the stage during 'One Way Ticket'  and held her own. How this worked, I have no idea, but it did and it was great. The merging of innocence with a lyrical diary addressing the horrors of drug addiction, pure entertainment! This band also know how to have fun and that's what I noticed most as the night progressed. It was a non-stop smiling fest, not just from the crowd but from the band, and Justin smiled so much, I am wondering if he has sore cheeks today. I was totally enthralled and enamoured to quite a degree, I must admit. I won't be watching those music clips the same way ever again…. the old advertising campaign of 'You've come a long way baby' glides through my mind.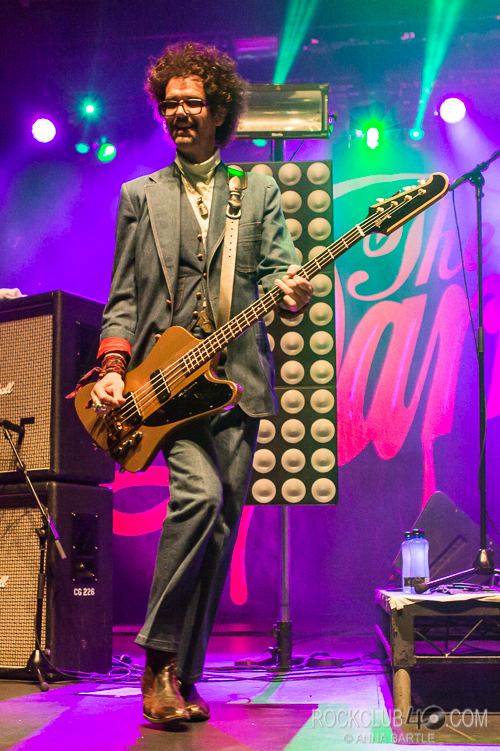 New song 'Solid Gold' slid nicely right in amongst the set list when often they don't and this led to more showcase vocals in 'Barbarian' and a vocal and guitar fave of mine 'Mudslide'. Aahhh getting lost in that sound, when a band sounds better live is when I get goose bumps. Then the set list moved into other favourites like 'Friday Night' and 'Get Your Hands Off My Woman'. More strutting and jumping and guitar heaven. Justin indulged us with headstands and scissor kicks, not to mention all the numerous guitar changes. So interesting how such a heavy sound can work with those high pitched vocals, such is the distinctiveness of this unique band. The words 'quirky' and 'eccentric' get bandied about, but it's more, oh so much more.
After 'Stuck In A Rut' it was anthem time with 'I Believe In A Thing Called Love'. The Enmore was already cranking through the night and we already had some crowd surfing and chaos before this moment, but when 'I Believe' came on it was bedlam, with boobs. This was our first set, female, sprinkled with some guys being carefully shoulder held while crowd surfers accidentally kick people in the head. I love watching the male groupies behave in ways that I have not witnessed in the past couple of decades. I always wonder if the band is thinking ' Not the guys, girls! Give us the girls!'  Such is the Darkness effect that inhibitions are pushed away and the pure animal instinct comes alive as grown adults lose their shit. Love it. This is rock'n roll and we need more! More! More! More of those bras and panties being thrown on stage. Those of which it looked as though Justin was wearing during our encore of the sublime 'Japanese Prisoner of Love'.  I mean the bra, it looked like he was wearing, not sure if he sampled the panties. From here it went to more boobs, male, stripping and attempting to cavort with Justin as he played guitar whilst being carried on security's shoulders during our concert finale of 'Love On The Rocks With No Ice'. I thought the male groupie was going to try and go in for a quick peck and a hug but, alas, it was not to be.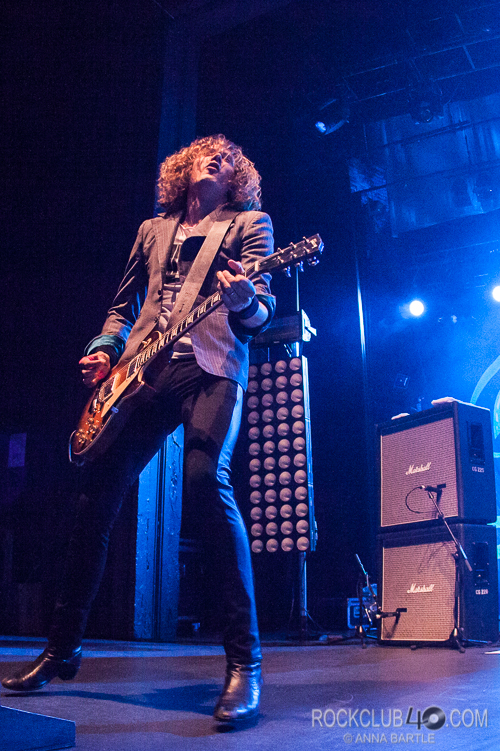 What a live introduction to such a talented and incomparable rock band. My ears are still ringing and there's some slight twinges of pain in the calf muscles but it has been more than worth it. I am happy to suffer for this euphoria! The Darkness are a brilliant live. All band members smashed it and it's a band united. You could see and feel the joy and it radiated from the stage, amongst the heavy guitars and ultra talented musicianship. Not an easy feat. And I can honestly say that Justin Hawkins is one of the best lead singers that I have ever seen, effortlessly engaging, witty, energetic, talented of course and charismatic. Not many can get all of the combinations right but we have a flawless recipe here. A perfect rock concert I shall declare? I think so. I'm looking forward to some more delicious devilishness on the next tour.
© MARINA KNEZEVIC 2017.  All Rights reserved.
Love this band?  Share this post with your friends!