The Barnestormers are an allstar combo featuring Jimmy Barnes, Jools Holland, Chris Cheney, Slim Jim Phantom, and Kevin Shirley.
What you have right here is rockabilly royalty. They're global allstars who swing like a gate. They make the finest, finger poppin' grooves to shake your local juke joint since the glory days of fenders and fins. Hold tight kiddo.
Flip your lid for each of them now …. pounding the ivories is East End boogie-woogie dice slinger, and UK music legend, Jools Holland. In the red corner, on sticks, skins and steel, from the City Of Angels via Brooklyn, it's the signature Stray Cat backbeat of Slim Jim Phantom. In the blue corner, from Melbourne, slinging his hollow body Gretsch low and drawing quick – Chris Cheney from the Living End. Who's the ringmaster for all this? Studio daddy-o, Kevin "Caveman" Shirley on the flying faders. And last, but definitely not least, wearing the championship belt of 20 number one albums, on vocals, the storming heart and soul of Australian rock'n'roll … Jimmy Barnes.
They're spread across three continents but they're all coming from the same place. Crazy right? They're kids who grew up as greasers, listening to real gone 45's with a whole lotta shakin' goin' on. It took The Big Flu to bring them together. "Hey, while we're all stuck inside let's bake a biscuit about cuttin' loose", said the Caveman …. and so they did.
Sure looks like fun. Check out Vince Ray's unmistakeable trashcomic artwork, brought to cartoon life in Italy by Marco Pavone, then strap yourself in for the tunes. First off the line is 'Johnny's Gone' … the story of a Rebel flaming out for his cause. Next flag to drop? A real wild child.
Their wax is for all the cats with weekends on their minds. Turn it on, turn it up, then turn it over and do it again. Forget about breaking your back in the burning heat. There's no more working for The Man. What are you waiting for? Your life's a lonesome train running out of track so grab a special someone who whispers sweet nothings in your ear and go make some crazy, crazy lovin' in that big back seat.
Then hit the highway home with your windows rolled way down. Play The Barnestormers so loud that you can't hear the police sirens. Put all your troubles in the rear view as you push that pedal to the metal. Then? Lift off! Be wild … real wild. Time's up, time is money, time please.
It's time for The Barnestormers.
LISTEN/WATCH HERE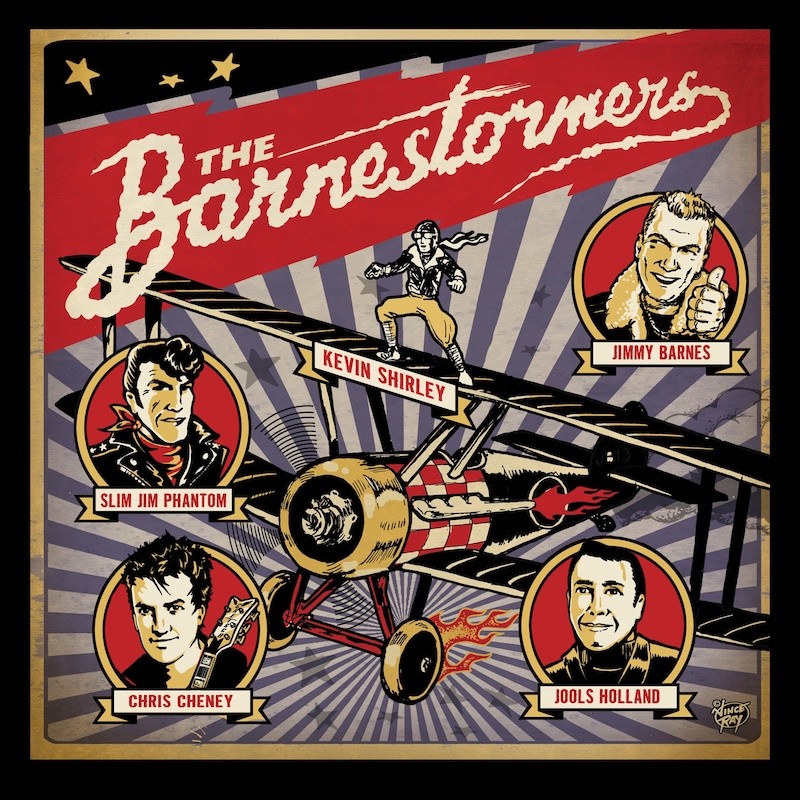 The Barnestormers – The Barnestormers
Out Friday May 26 through Bloodlines – pre-order here
Tracklisting:
Sweet Love On My Mind
Working for the Man
Johnny's Gone
Lonesome Train
Thirteen Women (And Only One Man)
Dear Dad
Crazy Crazy Lovin'
Sweet Nothin's
Land of Hope and Glory
Real Wild Child
25 to Life
ABOUT

Australia's favourite rock n' roll and soul singer Jimmy Barnes has topped the Australian charts more than any other artist in the history of the Australian Record Industry Association (ARIA). His fifteen solo number ones (plus five more with Cold Chisel) comfortably eclipse The Beatles (14), Madonna (12), Eminem and U2 (11).
From the band Squeeze to his 19-piece Rhythm & Blues Orchestra, Jools Holland has been touring the world, recorded 25 solo albums and worked with the most prestigious names in music. Jools's career as a TV presenter has run parallel to his musical career and includes iconic shows such as The Tube and Later…with Jools Holland (into its 31st year).
Chris Cheney is the frontman and guitarist for renowned Australian punk-rock outfit The Living End, who released nine albums across their career and sold out shows across the world. Most recently, Chris stepped out on his own to release his debut solo album, The Storm Before The Calm (2022), which debuted at #8 on the ARIA Chart (Australia).
Kevin Shirley is a legendary producer who has worked with the likes of Silverchair, Aerosmith, Cold Chisel, Journey, Jimmy Barnes, Iron Maiden, Tina Arena, The Black Crowes, Joe Bonamassa, Beth Hart, Led Zeppelin, Slayer, Metallica, Screaming Jets, Olivia Newton-John, Divinyls and Baby Animals. Kevin has claimed a closet full of awards and is a self-confessed workaholic!
Slim Jim Phantom is the founding member & drummer of Stray Cats, who just celebrated 43 years as the kings of rockabilly. After 10 million record sales & 1,000 gigs later, SJP can still be found bringing his one-of-a-kind stand-up drum style all over the world & as host of Rockabilly RaveUp on Little Stevens Underground Garage on Sirius XM, the most popular Rockabilly radio show in the USA.
Follow The Barnestormers:
Facebook: @TheBarnestormers
Instagram: @thebarnestormers
Twitter: @barnestormers