To say I was an obsessed Kiss fan would be an understatement.  I lived and breathed for this band and, after Criss' departure, Ace Frehley became my favourite as I shared his passion for all things Space related.  During their 1980 tour, my friends and I snuck into the Sydney showground and got a sneak peek of their soundcheck before being escorted out by security.  We hung out at the Sebel Town House where we got their autographs and followed their limousines to the airport.  We were probably the first kids in Australia to see them without makeup.  I even baked cakes annually to celebrate the Spaceman's birthday.  See what I mean by obsessed?
Naturally, when I found out my beloved Space Ace would be special guest on the Alice Cooper tour, I had even more of a reason to go.  Securing a front row seat, I couldn't wait for this night of bona fide rock'n'roll legends to arrive.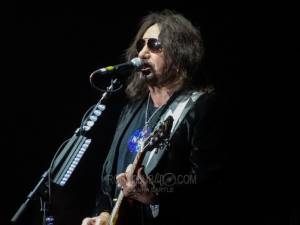 As the lights dimmed, the familiar chords of my favourite instrumental, the beautiful 'Fractured Mirror' began to play.  What a pleasure to hear it live, if only it was the complete version.  As the band took their positions on stage, we were treated to killer versions of 'Parasite', 'Hard Times', 'Love Gun', 'Detroit Rock City' and 'Deuce'.  But for me, the thrill came from hearing my personal faves '2000 Man', 'Talk To Me' and 'New York Groove'.  Watching Ace belt them out is quite surreal and like I'm hearing them for the first time.  There is just something about the tone of his voice that does it for me.  I could listen repeatedly and never, ever tire of them.
The set was a good mix of Kiss and Frehley's solo material, that famous smoking guitar solo, and my night would've been complete if 'Two Sides of The Coin' had made it onto the list but I'm certainly not complaining.  I was savouring every moment!
Frehley looked well.  He appeared relaxed and happy as he joked with the crowd and there was a great carmeraderie onstage between the band.  My only criticism was the poor lighting.  It did nothing to enhance the performance.  Whilst I get why opening acts have reduced lighting, an artist of this calibre deserves something better.  Lighting aside, I'm sure I wouldn't be the only one who would like to see him perform his first solo album in its entirety as it is brilliant.  I could even bake him a cake to celebrate the occasion!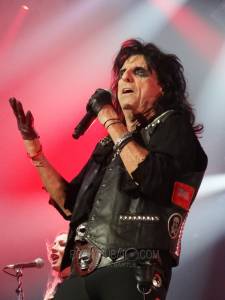 Then it was time for the legendary headline act.  It was a celebration of 40 amazing years since his first visit to Australia and, as expected, Alice Cooper fans were treated to a visual extravaganza of monstrous proportions.  From the opening number, to the encore, spending the night with Alice was going to be a full-on assault of our visual and auditory senses.  As he stepped onto the podium, a spell was cast and we were drawn into his nightmare.
Igniting the stage with a cascading pyro display, an imposing Cooper sneers 'This Is Where Your Death Begins' and launches into 'Brutal Planet', 'No More Mr Nice Guy' and 'Under My Wheels'. Followed by 'Department of Youth', 'Pain' and 'Billion Dollar Babies', the audience were on their feet, chanting and experiencing all the things they love about a Cooper performance.  We were showered with Cooper currency as he yielded a rapier pierced with notes above our heads, we were fearful of his giant rampaging Frankenstein transformation and taunted by a sexy, yet fiendish, Nurse Sheryl.  We witnessed Cooper's morbid descent into madness, his beheading on the giant guillotine, his straight jacket escape and more.  Who knew necrosis could be so much fun?  No one seemed to mind that we were being tormented by knives, swords, canes, creepy dolls and ghoulish masks.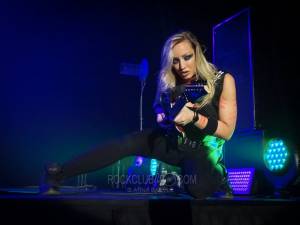 The show wouldn't be complete without crowd pleasing classics like 'Poison','Be My Frankenstein', 'Cold Ethyl', and the touching 'Only Women Bleed'.  As he blazed through 'Paranoiac Personality' from his current album,'The Ballad of Dwight Fry' and 'I'm Eighteen', it was soon time for the giant, confetti filled, balloon finale for the rebellious and anthemic 'School's Out' encore.  Could this magnificently fiendish and colourful spectacle really be over?
Cooper has surrounded himself with talented musicians whose style and personality complement and enhance the performance.  Guitarists Tommy Henriksen and Ryan Roxie, bassist Chuck Garric and drummer Glen Sobel play with such an impressive ferocity that just blows you away.  But special mention goes out to guitarist, Nita Strauss, who is the personification of a guitar goddess.  She is like a woman possessed as she shreds that guitar and seduces you with her intense, raw energy and pure passion for her craft.  Her enthusiasm is captivating to watch, especially as she takes centre stage during 'A Woman of Mass Distraction', a title perhaps befitting her stage presence, and then launches into a blistering guitar solo leading into 'Poison'.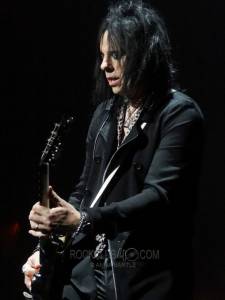 With an array of ghastly props and multiple costume changes to accompany the much loved songs, an Alice Cooper experience is an education in rock'n'roll wizardry. Perhaps ahead of his time, it's difficult to believe that in the early days, Cooper's stage show was considered controversial and criticised for its sinister content.  Fortunately, times have changed and now that shock value is perceived as pure theatrics and, dare I say it, family entertainment.  Judging by the amount of youngsters in the crowd, today's parents are happy to indoctrinate their children into the wonderfully macabre, yet cool, world of Alice Cooper!
It is no wonder Cooper has cast a spell on millions who adore him worldwide.  His rock'n'roll genius has influenced many musicians throughout the decades and paved the way for countless shock rockers.  He has perfected the formula that has enabled him to continue such a wonderful and illustrious career that has earned him enormous respect, the title of 'Godfather of Shock Rock' and secured him a position amongst the elite of rock royalty.  I can't wait for his next heinous offering!
© A. BARTLE 2017.  ALL RIGHTS RESERVED.
Help us spread the joy and hit the share buttons below!