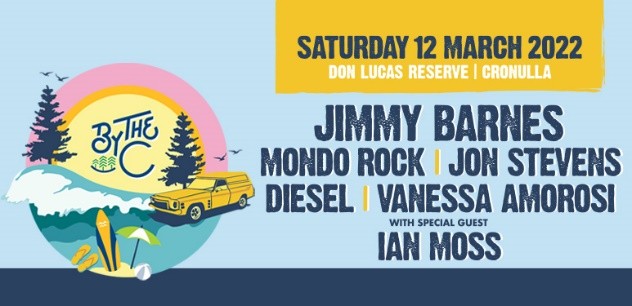 Following the success of the By The C concert series across Australia over past summer seasons, Zaccaria Concerts & Touring are thrilled to continue to announce their next season of shows around Australia in 2022. 
For Gold Coast, music lovers are set for a stellar line-up of artists as By The C presents JIMMY BARNES with JON STEVENS, IAN MOSS, DIESEL, VANESSA AMOROSI & KILLING HEIDI.
Sydney music fans are set for a stellar line-up of artists featuring JIMMY BARNES with MONDO ROCK, JON STEVENS, DIESEL, VANESSA AMOROSI & with special guest IAN MOSS.
Since its inception, By The C has continued to deliver legends of the music world to some of the most scenic locations around the country.  This beachside festival event is set to be a great day out with live music and a vibrant setting.  It's the perfect place to bask in the sun and ocean breeze while kicking back or dancing the day & night away to some of Australia's best live music.  Homegrown talent, beachside location, pop-up bars, food trucks, and a selection of refreshing beverages perfect for a day in the sunshine against a beautiful backdrop that makes you glad and proud to be an Aussie.
Jimmy Barnes is the heart and the soul of Australian rock and roll. His nickname, "Barnesy", conjures up thoughts of rock music at an ear-splitting volume, and of soul standards given a unique reading. Jimmy has been through it all, and literally lived to tell the tales. He has sold more records in Australia than any other local rock & roll artist. He has enjoyed eighteen #1 albums here – more than The Beatles – and for over 40 years he has delivered some of our most intense and iconic live performances. He is truly in a league of his own.
Flesh And Blood, Jimmy's twentieth studio album, was released in July 2021 and debuted at #1.
Borne out of the literally hundreds of live-at-home performances that comforted many during the isolation that was 2020, the ten brand new recordings on Flesh And Blood feature multiple contributions from Jimmy's extended family including his son Jackie on drums, his daughters Mahalia, Eliza-Jane and Elly-May all contributing vocals, as does Jackie and granddaughter, Tyra Harrison. His son-in-law, Ben Rodgers, engineered the album, played bass and collaborated with Jimmy's nephew, renowned photographer Jesse Lizotte, on the album cover, plus he and Jane also duet together on the American classic Love Hurts.
Never one to slow down, Jimmy also had two new books released in 2021 – a children's book, Rosie the Rhinoceros, in October and a cookbook with Jane in November titled Where the River Bends.
Jon Stevens is recognized as one of the most talented rock musicians to emerge from Australia in recent memory. He has had phenomenal success as a solo artist, knocking Michael Jackson off the top of the charts in Australia and as the lead singer of major rock acts Noiseworks, INXS after the death of his friend Michael Hutchence, and the Dead Daisies.
In 2016 he joined forces with legendary musician, songwriter and producer Dave Stuart (of Eurythmics) to record a new album, Starlight.  With his mojo fully intact, Stevens stands virtually alone in the music scene, with a new raw vocal power that won him attention first as a teenager and now as a veteran singer and songwriter. Time has toughened his delivery while tapping into his emotional wellsprings more than ever before.
He's got the pedigree: a record-smashing debut at age 16 with two consecutive No. 1 singles in his New Zealand homeland … Huge hits in Australia as lead singer with Noiseworks … A 21st century liftoff to worldwide acclaim at centre stage with INXS … An iTunes featured release with his last band, The Dead Daisies, whose debut single, Lock and Load, which he wrote and produced with the legendary guitarist Slash on guitar.
Respected as one of Australia's iconic musicians, Ian Moss delivers an unforgettable sound – not only as a telling soloist on guitar but especially with his silken voice, ringing with clarity and resonating with pure soul. While primarily recognised as an axeman of tenacity and sweet melodic sensibility, Ian's distinctive vocal is the essential signature of his soulful, bluesy muse – as it has been since his first tentative foray into music during the early 1970s.
Born and raised in Alice Springs, Ian started playing guitar in local teenage bands but moved to Adelaide after failing one of his high school years, planning to repeat in the big city. Fate intervened when he answered an advertisement for a guitarist in a shop window in 1973, joining the band that was to become a legend in Australia and that made such an undeniable impact that they are now etched in the Australian music psyche forever. That band was Cold Chisel.
Moss has released six incredible and dynamic studio albums – The #1 and multi-platinum, Matchbook, Worlds Away, Petrolhead, Let's all Get Together, Soul on West 53rd and the self-titled Ian Moss.
2019 sees the 30th Anniversary of the iconic and landmark album Matchbook. The album was released on August 1, 1989 and peaked at #1 on the ARIA Albums Chart. It remained in the Top 10 for an amazing 14 weeks, shipping more than 200,000 copies in the first 12 months alone. The album went on to win Album of the Year, Best Male Artist and Breakthrough Artist – Album, Breakthrough Artist – Single and Song of the Year (shared with Don Walker) for 'Tucker's Daughter' at the ARIA Music Awards in 1990.
For more than a dozen years Mondo Rock dispensed punchy, craftily professional, adult pop-rock. Between 1977 and 1991 the Australian charts were enriched and enlivened by their sleek and proficient offerings.
The first Mondo Rock came together in February 1977, the band's first single 'The Fugitive Kind' made top thirty nationally – the first of 17 Mondo Rock hits. Three more singles were released, the album Primal Park making top forty. After line-up changes, Mondo Rock took a break at the beginning of 1980.
A man of determined nature, Ross Wilson was back within three months with a new band, a new record deal and very much a new sound. Standing alongside him was the guitarist from the band Matchbox, one Eric McCusker, a songwriter of skill and focus with James Black on keyboards, Paul Christie on bass and J.J. Hackett on drums – the definitive Mondo Rock formation – the band was one of the most popular in Australia; a powerful draw card on the national touring circuit.
Born in Fall River Massachusetts, the youngest of seven from a sax playing electronics technician father and a mother in nursing, Mark Lizotte aka DIESEL grew up in Australia and in the U.S.  He formed the band 'Johnny Diesel & The Injectors' in 1986 from remnants of a previous band before embarking on a solo career in 1991. 
In 2017, DIESEL celebrated 30 years "off the bus" landing in Sydney in 1987 after a 3-day bus journey across Australia, launching into 9 shows per week – the rest is history. With over thirty-five singles, sixteen albums, 6 ARIA awards and record sales edging 1 million, DIESEL is a journeyman of music. With blues music in his DNA, an influence largely from his father's record collection, DIESEL has blended styles to come up with a truly unique sound, punctuated with his distinct guitar playing and vocals.
This far into her stellar career, Vanessa Amorosi remains one of the most exciting singers on the planet. Her song-writing and dynamic vocal range have seen the artist sell over two million records worldwide. She has released 6 commercially and critically acclaimed studio albums, received sixteen ARIA and APRA nominations, and stopped the world in it's tracks with her performance of 'Heroes Live Forever' and 'Absolutely Everybody' at the Sydney Olympics.
Vanessa reached incredible success in 1999 with her debut single 'Have A Look' followed by mega-hits in Australia and Europe with 'Absolutely Everybody' and 'Shine'. Her debut album 'The Power' reached #1 in Australia, #7 in the United Kingdom, #1 in Hungary and the top 10 in several European countries. In 2008 Vanessa returned with her third album 'Somewhere In The Real World'. Radio smash-hit 'Perfect' became the most played song by an Australian artist in 2008.
2009 saw the release of Vanessa's most successful album so far, the platinum selling 'Hazardous'. The first single to be released, 'This Is Who I Am' debuted at #1 on the ARIA singles chart and achieved Double Platinum sales.
In 2019 Vanessa released her 5th studio album 'Back To Love' followed by an Australian solo tour and successful festival tours. In March 2020, Vanessa released her first single 'Coming Down Off You' from her album titled 'The Blacklisted Collection'. Having earned her place as one of Australia's most iconic female artists, 'The Blacklisted Collection', was her first record as an independent artist and showcased a rawness and intimacy not heard before.
Killing Heidi are officially forever. Twenty years ago, when the disarming folk-pop of Kettle launched Ella and Jesse Hooper into high radio rotation, it was something neither expected. But tour after tour, the Violet Town siblings are finding their explosive power pop more entrenched in the Oz rock pantheon.  
There's a whole generation that doesn't need reminding that the early '00s belonged to Killing Heidi. Weir hit #2 and Mascara #14 in Triple J's Hottest 100. Debut album Reflector won four major ARIA awards and sold 4 times platinum as Ella and Jesse took out the prestigious APRA Songwriters of the Year award in 2001.
After a fruitful decade of diverse solo and duo pursuits, the pair reignited the flame for the 20th anniversary of Queenscliff Music Festival in 2016: a perfect reflection of their first teenaged performances under the Killing Heidi banner.  Blown away by the warm welcome and electric energy of a capacity crowd, they went on to meet snowballing demand at Zoo Twilight concert series, a SOLD OUT capital cities tour and a run of regional shows, a co-headlining national tour with 90's rock icons Baby Animal, and in Summer 2020 touring Australia with the Red Hot Summer Tour.
So, jump on board and join us as By The C delivers you the best live music again!
Tickets on sale Saturday 20th November at 10.00am
Tickets are available at: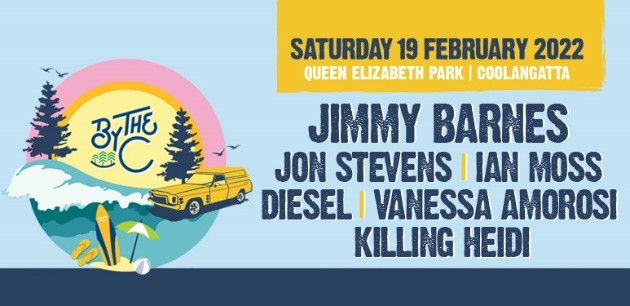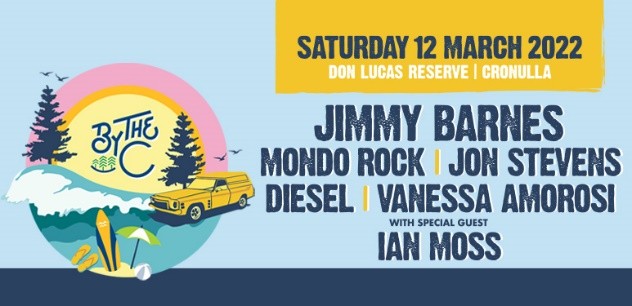 Get social:
#BYTHEC2022
Facebook: bythecaustralia
Instagram: @bythecaustralia