CELEBRATING THE EASYBEATS
Contemporary Australian artists Daniel Johns, The Bamboos & Montaigne, KLP, LDRU & Nicole Millar and San Cisco unite to celebrate The Easybeats with Rebeat EP released 24 November
First single 'Hello, How Are You' by Boom Tish released TODAY
Download or stream HERE / Lyric video HERE
The Easybeats Absolute Anthology 1965 – 1969 re-released on vinyl for the first time in 30 years
ABC to broadcast eagerly-awaited two-part biopic of the band
Fifty years since iconic Australian band The Easybeats hit the UK charts with their smash song 'Friday on My Mind', Easyfever is showing no signs of slowing down.
Over the next month Australia will celebrate one of the country's most loved bands with a vinyl reissue, a two part mini-series on the ABC and Rebeat; a tribute EP.
In recognition of the everlasting influence the band continues to have, some of Australia's most distinguished contemporary artists have reimagined their favourite Easybeats tracks on Rebeat to be released by BMG.
The line-up features Daniel Johns; who has assembled his Vivid LIVE band for a special one-off tribute under the name Boom Tish, KLP, The Bamboos featuring Montaigne, LDRU featuring Nicole Millar and San Cisco.
Rebeat launches with 'Hello, How Are You' by Boom Tish, out today. KLP releases 'Good Times' on 10 November, The Bamboos feat. Montaigne release 'I'll Make You Happy' on 17 November and on 24 November LDRU feat. Nicole Millar and San Cisco each release their versions of 'Friday On My Mind'.
The story of The Easybeats, five immigrant lads who came together to jam in the laundry of the Villawood Migrant Hostel in south-western Sydney, is as captivating today as it was in 1964 when singer Stevie Wright, guitarists Harry Vanda and George Young, bassist Dick Diamonde and drummer Snowy Fleet were drawn together by the one thing they had in common: an obsession with music.
They soon came to the attention of young music publisher and producer Ted Albert, who recognised something fresh, urgent and original. The band signed to Alberts in 1965 and their success was immediate, with a string of hits including 'She's So Fine', 'Women', 'Come and See Her', 'Wedding Ring' and 'Sorry'.
With their unwavering self-belief and an ability to write catchy and irresistible lyrics at a time when other bands were simply replicating existing tracks, The Easybeats caught the public's attention. Easyfever took off. Screaming, rioting, teen hysteria swept the country and the band was mobbed wherever they went. The release of 'Friday On My Mind' in 1966 sealed the band's fate. With its irresistible beat and universal lyrics the song was an instant hit around the world. 'Good Times' and 'St Louis' followed soon after.
In 2001 the Australasian Performing Right Association (APRA) voted 'Friday On My Mind' the Best Australian Song of all Time. Four years later The Easybeats were inducted into the ARIA Hall Of Fame.
Today the band's perennially humble lead guitarist Harry Vanda says he continues to be taken aback by the longevity of The Easybeats' popularity and the appeal the band's music still holds today. "It's amazing and quite flattering. If other artists are still impacted by The Easybeats and it's for the good, then I'm all for it," Vanda says.
Over the years artists from David Bowie to Bruce Springsteen and Paul McCartney have been influenced by The Easybeats' sounds; while closer to home contemporary artists including Daniel Johns and The Rubens have no hesitation in saying what a profound impact The Easybeats had, and still have, on their music.
Daniel Johns said today, "The Easybeats legacy is undeniable and Harry and George in particular created a blueprint of self-sufficiency for Australian musicians that is more relevant in 2017 than ever.
"I remember seeing a quote from George Young where he said 'Hello, How Are You' was considered by many Easybeats fans an unwelcome departure from the band's typical rock sound…. I feel like I can relate to this statement. This is probably why the track is one of my favourite Easybeats songs and Boom Tish had a lot of fun working on it.
"We could assume that having four friends work on the song in my lounge room, self-producing and recording it in a day and then sending it to the label via text message was a slight departure from the recording process of 50 years ago!"
Lance Ferguson, lead singer of The Bamboos who recently signed to BMG, says "The Easybeats are one of the iconic Australian bands, their musical legacy extends to forging Australian rock 'n' roll history in the beginning, right up to supporting young songwriters with the Vanda & Young competition now. It was a big honour to be part of this project."
On 24 November Alberts/BMG will release the 1980 Easybeats album Absolute Anthology 1965 – 1969 on 2LP set; a 43-track compilation compiled by Ted Albert in the late Seventies. The songs were digitally re-mastered by Don Bartley from the original tapes; obtained from the Alberts archives. The artwork and extensive liner notes have been beautifully reproduced by Sydney design agency 3DUX, a process that has taken months to perfect. Pre-order the 2LP HERE.
Absolute Anthology 1965 – 1969 is available on 4CD and digital and streaming services HERE.
Coinciding with Ausmusic Month, ABC will premiere Friday On My Mind, a major two-part mini-series on The Easybeats. Written and directed by award-winning team Chris Lee and Matthew Saville respectively, it will air at 8.40pm on Sundays, 26 November and 3 December on ABC and will be available on ABC iview. Watch a preview HERE.  
In September this year Easybeats merchandise was made available for the first time in years, including a newly designed shirt featuring the Travis Price designed Rebeat artwork. Fans can now access The Easybeats official Youtube and Facebook pages.
Rebeat, released 24 November.
1.     Boom Tish – 'Hello, How Are You' (out today)
2.     KLP – 'Good Times' (released 10 Nov)
3.     The Bamboos feat. Montaigne – 'I'll Make You Happy' (released 17 Nov)
4.     LDRU feat. Nicole Millar – 'Friday On My Mind' (released 24 Nov)
5.     San Cisco – 'Friday On My Mind' (released 24 Nov)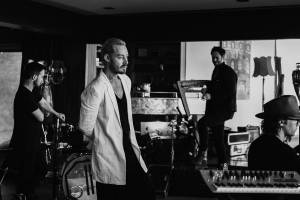 Easybeats fast facts:
·       In 2001, Friday On My Mind was voted the best Australian song of all time
·       In 2004, Harry, George and Stevie were the inaugural songwriters to be inducted into the Australian Songwriters Association Hall of Fame
·       In 2005, The Easybeats were inducted into the ARIA Hall of Fame
·       In 2007 Australian Music Magazine selected the Villawood meeting of Harry and George as the most significant event in Australian pop and rock history
·       Ted, Harry and George worked together for nearly 30 years, helping create and support many of Australia's most revered artists, songs and recordings
·       A year after his death in 1990, "The Ted Albert Award for Outstanding Services to Australian Music" was created – it remains one of the highest honours in the Australian music industry