After Crashdïet released their sixth album Automaton earlier in the year, you can now own the 12 eclectic metal tracks on limited edition vinyl via Crusader Records/Golden Robot. 
In addition to the limited edition vinyl, Crashdïet have surprised their fans with a music video for their fan-favourite single, 'Shine On.'
Just like a gigantic robotic machine with pre-determined instructions, failure was never an option… No matter what obstacles may have come their way in the past, Crashdïet have always marched forward, delivering their owns tyle of sleaze metal they have become so well known for. Automaton contains 12 powerful sing-along anthems with massive drums, guitars, bass, and powering vocals (including a surprise special guest and a haunting voice from the past).
You can purchase Crashdïet limited edition vinyl Automaton with a colour option of purple or redvia the Golden Robot Records online store. 
Buy Automaton on Vinyl HERE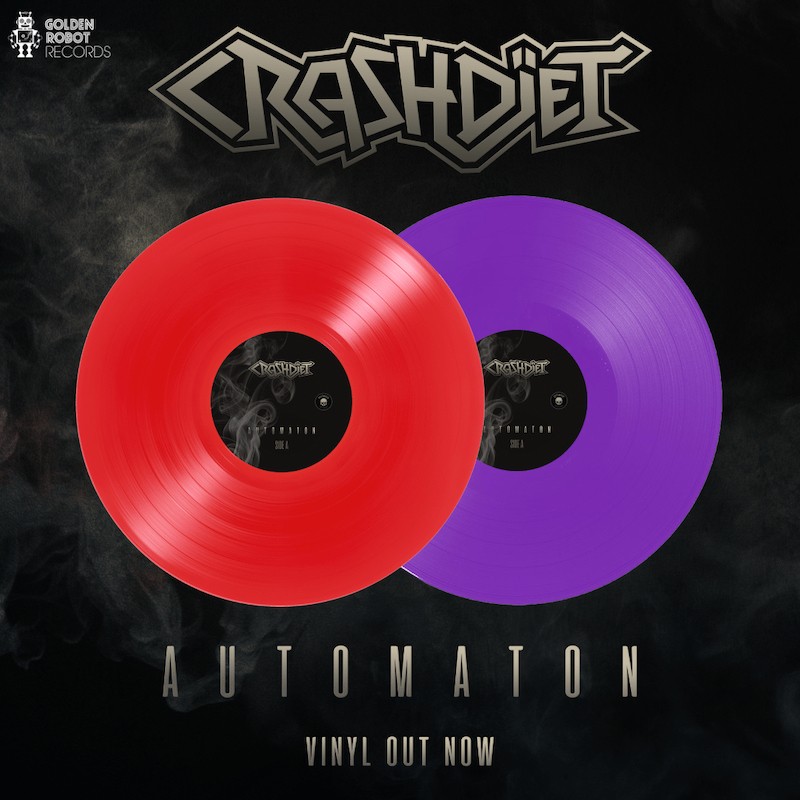 ABOUT CRASHDÏET
With the motto "Go big or stay home" Crashdïet formed in Stockholm back in the year 2000 and brought in the new millennium with full-throttle speed and excess.
Crashdïet released their critically acclaimed debut album Rest in Sleaze in 2005, giving them a spring of success in their home country Sweden and abroad.
Shortly after, their frontman Dave Lepard was found dead at his home, the result of a tragic suicide in January 2006.
With a career littered with abuse, tragic deaths and lineup changes, it nearly ended the band more than once, but the band have become known for picking up the pieces and returning to the scene of the crime… every time.
The surviving band members and new blood have carried the glam-metal sleaze-rock torch ever since, touring the world and releasing many acclaimed studio albums.
Crashdïet are:
Gabriel Keyes – vocals
Martin Sweet – guitars
Peter London – bass
Eric Young – drums