Following the release of her hypnotic new single OLD NEWS, Ella Hooper has today announced a national run of tour dates to showcase the track live, along with a selection of new material and some old favourites!
The tour will commence in WA on October 20, before moving on to Victoria, SA and QLD, and winding up in Sydney with Mary's Underground on November 25 and Centro, Wollongong on November 26. It also includes what will no doubt be a massive night for Cup Eve at Northcote Social Club in Melbourne (Monday October 31). Tickets for all shows on sale now – head to www.ellahoopermusic.com
Ella Hooper said today, "I can't wait to embark on a run of tour dates across the country! It's been so long since I've been able to release new music then hit the road and show it off! Playing live is something sacred to me, I like to give it my all. I've got a hot 5-piece band backing me to deliver the songs IRL, I can't wait to see everyone again!"
Old News represents a new chapter in Ella's storied career.  It was written with American country artist Sara Douga, who she met in Nashville in 2017, produced by Marcel Borrack and Tim Harvey, and features rising star Gena Rose Bruce on backing vocals. The track has been warmly embraced by global streaming platforms, added to more than 300 Playlists in less than a week.
Download/stream Old News HERE.
Old News has been hailed as a new beginning for Ella, who was still a teenager when she burst onto the Australian music scene fronting Killing Heidi.
It's worth recapping Killing Heidi's remarkable success. They scored their first number one single, 'Mascara', on Ella's 17th birthday. And their debut album, Reflector, was one of the fastest-selling Australian albums of all time, spending six weeks at number one, going five times platinum, and winning four ARIA Awards, including Album of the Year.
"For a long time, I felt awkward about my success, that I had to apologise for it," Ella reveals. "Becoming a bit of an overnight success with Killing Heidi really presented its challenges. I've had a complicated relationship with my career, but I don't feel hamstrung by that anymore."
"I guess Old News is a message to myself," she adds. "It's okay to be ambitious and still have dreams."
Old News … a new start and a stunning solo single from one of Australia's most-loved singer songwriters.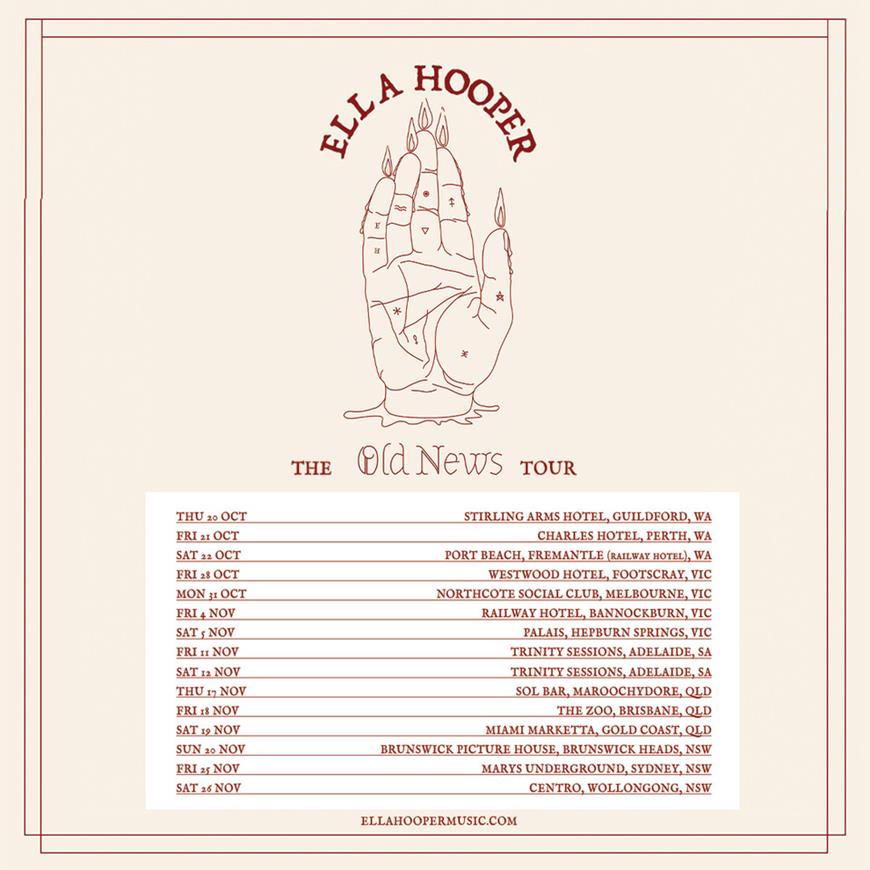 CATCH ELLA HOOPER LIVE ON THE OLD NEWS SINGLE TOUR
Tickets on sale 9am today – all times local  – for more info head to www.ellahoopermusic.com