Acclaimed singer songwriter James Reyne has today announced he'll take his A CRAWL TO NOW Tour on a huge regional run from March through to May 2018.  Commencing March 20, 2018, Reyne will tour widely across regional NSW and Vic, concluding with a date in Mount Gambier, SA on May 19.  He'll be joined by guitarist Josh Owen in acoustic duo format.
A CRAWL TO NOW is a 90 minute live show featuring songs selected from over twenty albums representing an extensive catalogue. Songs from Australian Crawl to now.
"This will be a comprehensive look at the past unto the present.  I've sifted through all of the Australian Crawl material with the intention of performing it "songbook" style. And to bring out the solo material again and reimagine those songs acoustically is always fun –  I'm very excited about these shows."
Join James Reyne and his guitarist for an unforgettable acoustic celebration of his career – A CRAWL TO NOW – in March, April and May 2018.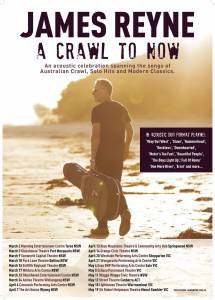 JAMES REYNE – A CRAWL TO NOW 2018 Acoustic tour
With specials guests to be announced
Tickets on sale now
MARCH
Fri 2 – Manning Entertainment Centre, Taree NSW
Sat 3 – Glasshouse Theatre, Port Macquarie NSW
Fri 9 – Tamworth Capital Theatre, Tamworth NSW
Sat 10 – Park Lane Theatre, Ballina NSW
Fri 16 – Griffith Regional Theatre, Griffith NSW
Sat 17 – Mildura Arts Centre, Mildura VIC
Fri 23 – Shoalhaven Entertainment Centre NSW
Sat 24 – Anitas Theatre, Wollongong  NSW
APRIL
Fri 6 – Cessnock Performing Arts Centre, Cessnock NSW
Sat 7 – The Art House, Wyong NSW
Fri 13 – Blue Mountains Theatre and Community Arts Hub, Springwood NSW
Sat 14 – Orange Civic Theatre, Orange NSW
Fri 20 – Westside Performing Arts Centre, Shepparton VIC
Sat 21 – Wangaratta Performing Arts Centre, Wangaratta VIC
MAY
Fri 4 – Esso BHP Performing Arts Centre, Sale VIC
Sat 5 – Echuca Paramount Theatre, Echuca VIC
Fri 11 – Wagga Wagga Civic Theatre, Wagga NSW
Sat 12 – Street Theatre, Canberra ACT
Fri 18 – Lighthouse Theatre, Warrnambool VIC
Sat 19 – Sir Robert Helpmann Theatre, Mount Gambier SA