Phil Jamieson – frontman/singer/songwriter/guitarist for Grinspoon – has today released his first ever solo album Somebody Else. The album is this week's Feature Album on Double J.
The release of Somebody Else comes on the back of a performance with Grinspoon at Splendour in The Grass and follows the first two nights of Phil's Somebody Else national tour. The album includes co-production credits from friends Oscar Dawson of Holy Holy and Davey Lane of You Am I; Lane is also playing guitar in Jamieson's band, as well as fronting the tour's guest act, The Pictures.
Phil has been working on his solo career for some years. Indeed, some of his 'new' material predates his role in the Australian stage production of American Idiot. He has, however, up until now been nervous to christen it with an album.
"The collective fear and loathing which has gone into releasing this has sometimes seemed insurmountable. But it's a bit like an election, innit? If not now, when? If not me, who? Thanks for listening regardless, I hope you get a kick out of it…"
The overwhelmingly positive response to the record shows that Phil had nothing to worry about. As that doyen of the arts, Tim Rogers says of it:
"Phil's puckish performance style is underscored by a voice that can turn choirboy or demon's spawn in a blinding grin. This has at times overshadowed his humour and empathy but no more. Teasing open his lapels to show heart and scars, but also hope and the lessons learnt from throwing yourself into this art that compels and damns us. Pop music with fire and finesse."
The themes behind Somebody Else span time, space and the human experience, traversing everything from time travel to trouble, loneliness, desire, escapism and love. Starting to grow sonic legs a decade ago, Phil initially presented what would eventually become Somebody Else to his team in 2019. Barrelling from emphatic dreamscapes on tracks like 'Trouble', to otherworldly realms on 'YCBM', smoky, sultry stopovers on 'Little Pickle', upbeat indie rock on 'Rebecca' and percolating gloss on its title track, Somebody Else reads and breathes like a jolt of fresh, and occasionally dream poppy, air, born as an entirely different album and carefully finessed and polished into its beguiling end result – before anyone knew what social distancing actually was, as Phil explains:
"Initially I presented something to my management the weekend before Bob Hawke died, I was working on a few projects and presented the album, to Wonderlick; and they said it was close but to keep working. So I went away with Oscar, Davey, Jordan, Ben and we polished it up, this was all pre-pandemic, back in 2019".
To celebrate the release, Phil hit the road this week with band mates Sam Raines on drums and Rob Muiños on bass and new addition Davey Lane providing added guitar brilliance.  The tour began July 27 in Eltham in Northern NSW.  Supporting Phil is Davey's band The Pictures – who are back in their original form after 18 years. 
Somebody Else is out now on vinyl, CD and digitally through Cheersquad Records & Tapes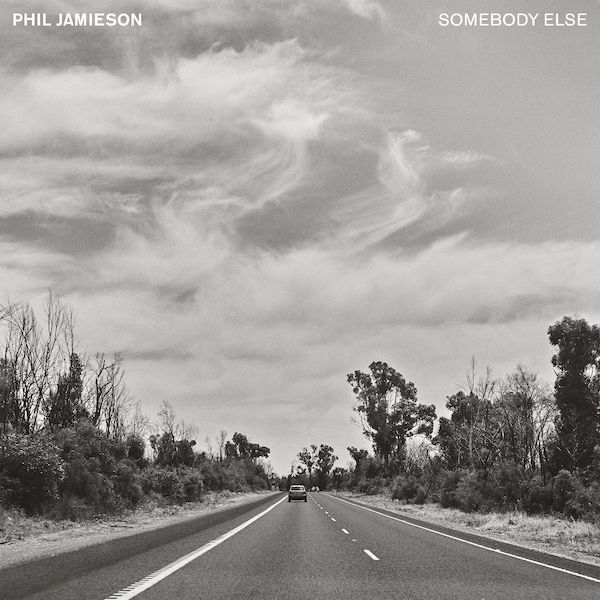 Click to Buy or Stream Somebody Else Now
PHIL JAMIESON & BAND
WITH SPECIAL GUESTS THE PICTURES
(remaining dates) 
FRIDAY 29 JULY • SOLBAR SUNSHINE COAST – TIX
SATURDAY 30 JULY • THE ZOO BRISBANE – TIX
THURSDAY 4 AUGUST • THE CURTIN MELBOURNE – TIX
FRIDAY 5 AUGUST • UC HUB CANBERRA – TIX
SATURDAY 6 AUGUST • OXFORD ART FACTORY SYDNEY – TIX
SUNDAY 7 AUGUST • SHADY PALMS AVOCA BEACH (NSW) – TIX
FRIDAY 12 AUGUST • LION ARTS FACTORY ADELAIDE – TIX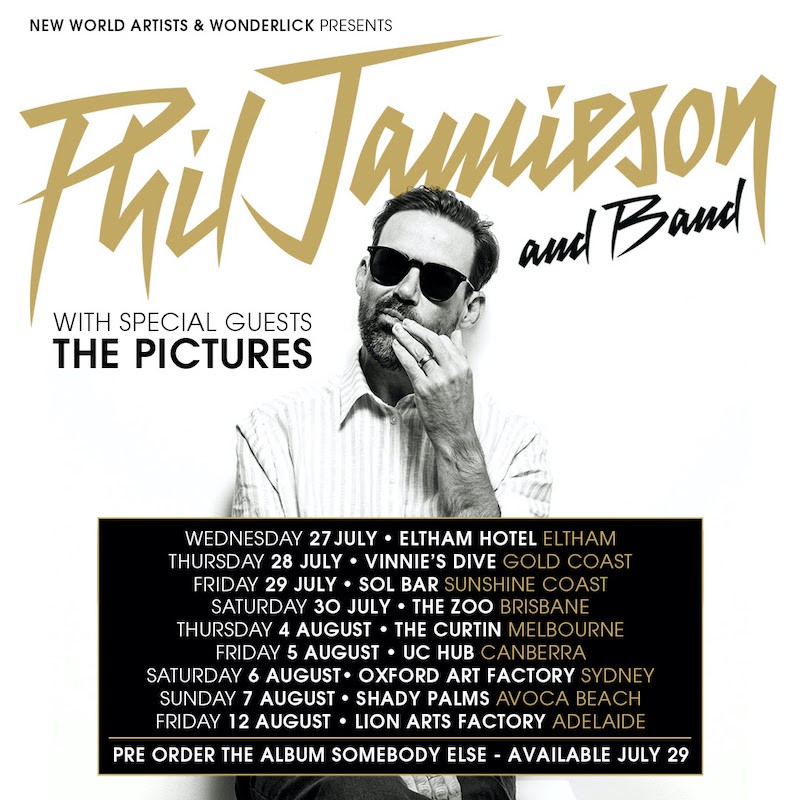 Phil Jamieson has spent the last quarter-century fronting one of Australia's popular and successful bands. An accomplished singer, songwriter and guitarist, Jamieson's generation-defining lyrics and vocal melodies first became etched into rock fans' DNA in 1995, when the Lismore-born quartet he helped form as an 18-year-old rode a new wave of alternative music to become the first act Unearthed by national youth radio station triple j with its debut single "Sickfest".
So began a love affair that maintained its heat and passion for over one thousand live shows, six consecutive Top 10 debuts and multi-platinum album sales. That initial romance with triple j's listeners blossomed into full-bloom infatuation: an incredible 17 Grinspoon songs have polled in Hottest 100 countdowns over the years, led by the much-loved 'Chemical Heart' (#2 in 2002; #63 in 2013's Hottest 100 of All Time).
Jamieson's live performance talents have continued to diversify and develop as he has explored new stages and formats. Embracing a solo career, Jamieson also made the transition from live music venues to the boards of theatres around the country in 2017, being cast as St. Jimmy in the Australian stage production of American Idiot. The Broadway musical made an impactful debut with its initial Australian premiere in Brisbane, leading to a national tour in 2018 – a performance that earned Jamieson acclaim: "Phil Jamieson carried the role in Perth, and absolutely nailed it. Jamieson has more of a swagger than an in-your-face psychopathic Jimmy, which I enjoyed more than I expected…whenever Jimmy is on stage, it's difficult to focus on anything else." – SYN MEDIA
As well as working on his solo career in recent years, Jamieson has also been involved in several philanthropic and industry-specific initiatives. In 2013, he co-founded the Rock N Ride Tour for the national Youth and Mental Health Foundation, headspace. Bringing awareness to mental health issues faced by young people, the initiative saw a group of media figures, musicians and friends of Jamieson's engage with local communities across a five-day motorcycle road trip, taking in over 5000km on the road. Additionally, profits from Jamieson's solo touring have been donated to national initiative Support Act, who continue to assist and uplift those in the music industry who are in need.
Since 2015, Jamieson has also been an industry judge for the Australian Music Prize, arguably the most prestigious award in Australian music.
From fronting a generation-defining band, enjoying success as a solo artist and in the musical theatre world, as well as using his skills behind the scenes across numerous projects; Jamieson remains a multi-faceted creative, 27 years on from his debut.
Phil Jamieson's debut solo album Somebody Else is out today on Cheersquad Records & Tapes
cheersquadrecordstapes.bandcamp.com/album/somebody-else