STORM FRONT TOURING PRESENTS
RICHIE KOTZEN
SALTING EARTH TOUR – AUGUST 2017
Guitar virtuoso, vocalist and multi-instrumentalist, Richie Kotzen will tour Australia's east coast for the first time this August.
The current Winery Dogs axeman and former member of Poison and Mr Big has just released his 22nd solo album, Salting Earth via his own label, Headroom-Inc.
From deep bluesy grooves to balls-out hard rock; burning sky harmonic glory to funk-jazz and acoustic numbers, Salting Earth captures Richie's prolific career in one brilliant ten track album.
A one man production machine, Kotzen writes all the music and plays every instrument on his solo work. Guitar, bass, drums, piano and more.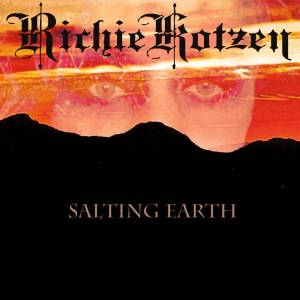 Richie Kotzen burst onto the heavy metal scene as a teenager with his lightning-fast guitar technique.
After recording three albums including his 1989 self-titled debut, the following year's Fever Dream, and 1991's Electric Joy, he was recruited by Poison to replace original guitarist CC Deville.
Kotzen recorded Poison's 1993's Native Tongue album but returned to his solo career soon after and at the end of the '90s, Kotzen had joined multi platinum selling rock outfit Mr. Big.
Mr Big broke up in 2002 and Kotzen once again returned to his solo career, beginning his most creative streak releasing 9 solo albums from 2001 til 2015!
In 2013 Richie joined forces with two giants of the music industry. Billy Sheehan (David Lee Roth, Mr Big, Steve Vai) and Mike Portnoy (Dream Theater, Flying Colors) to form The Winery Dogs.
The power trio released two highly successful albums, The Winery Dogs in 2013, and Hot Streak in 2015.
While having several lifetimes of albums to his name, bringing music to the people is Richie's main mission
 "My real outlet is touring — playing live as much as I can, wherever I can, whenever I can," he says enthusiastically. "It's one of the few things you can't copy, steal, or download.  It's an engaging human experience that's a give-and-take between both the performer and the audience, and there is nothing else like it on this earth."
Australian fans are in for a special treat as Richie will perform material spanning his 28 year career!
Come Dig The Earth!
TOUR DATES
Thursday, August 24: Max Watts, Brisbane
Friday, August 25: The Factory Theatre, Sydney
Saturday, August 26: Max Watts, Melbourne
Tickets onsale NOW
www.oztix.com.au – Bris/Melb
www.factorytheatre.com.au – Syd
Salting Earth is out now via
facebook.com/richiekotzenmusic 
facebook.com/stormfronttouring