Shakin' Stevens, one of the greatest hitmakers in UK chart history and a major national and international star for 40 years, will celebrate his incredible catalogue this November.  
BMG will release the lavish, 19-disc anthology bookpack Fire In The Blood, augmenting his body of studio work with rare treasures and live treats. This awesome overview will be complemented by the Singled Out collection on 3CD, 2LP and digital versions. 
Pre-orders are available now shakinstevens.lnk.to/fitbPR
To mark the announcement Shaky has shared the previously unreleased gospel song 'I Need You Now'.
"Every now and again you hear something in the feel of a song that makes you want to record it – and that's what happened when I first heard this gospel song.  I recorded it but then went on to another project, which happens at times" he recalls. "But good songs always come to the surface and it was great to discover it once again and to be able to include this previous unreleased song on Fire In The Blood"
Watch & Listen to I Need You Now shakinstevens.lnk.to/inynPR
The 3CD edition is the first ever to include Shaky's entire solo singles output, and the 2LP format is personally curated by Shaky himself. His liner notes provide revealing personal insights into the background of key songs.
Also making its debut on the two formats is the brand new single 'Wild At Heart (Neros Single Version).'  The 26 tracks on the 2LP version of Singled Out are all hand-picked by Stevens himself, and the packaging will include a card enabling fans to download all 54 tracks on the 3CD edition. The singles collection encapsulates all Stevens' singles releases as a solo artist, offering many sought-after rarities such as 'Never' and his seemingly endless glory years at the chart summit. These include four signature UK bestsellers, 'This Ole House,' 'Green Door,' 'Oh Julie' and of course the perennial 'Merry Christmas Everyone.'
Other feel-good hits include 'You Drive Me Crazy', 'Marie, Marie', Turning Away' and 'A Rockin' Good Way', together with later gems like Shaky's collaboration with Queen's Roger Taylor, 'Radio,' 'Now Listen' and the radio hit 'Last Man Alive.'  
Ask anyone who grew up knowing the man born Michael Barratt in Ely, Cardiff, the youngest of 13 children, and they will tell you he was born to rock and roll. By his teenage years, he was doing just that, performing the tunes of artists such as Fats Domino, Joe Turner and Chuck Berry, on the road with his various bands.  With talent, charisma and determination in equal measure, Shaky's stage would expand exponentially from church halls to the UK gig circuit and on to West End acclaim inthe Elvis! musical, before he set off down a solo recording path with results he could only dream of. 
Singled Out is an incisive summary of the epic adventure that would make Shaky the UK's bestselling singles artist of the 1980s, and one of our most enduring and beloved music heroes. Four UK No. 1 singles, 15 top tens and 33 top 40s are a tally that few modern artists can match. The same applies to an aggregate year-plus in the top ten, more than four years in the top 40 and an almost endless run of gold, platinum and double platinum albums at home and throughout Europe and internationally.   As Shaky says, Singled Out is also a compendium that demonstrates how his creative scope expanded with the passing years, culminating in the huge praise for 2016's exceptional, Americana-flavoured Echoes Of Our Times album.He notes of Singled Out: "The double aspect of the physical release – on CD and vinyl – includes every single that I've ever released. It truly displays the breadth of my musical styles and the changes in my music over the years, from raw rock'n'roll to rock and country blues, Cajun, Americana and everything in between." 
Singled Out also stands as a superb appetiser for the spectacular Fire In The Blood bookpack, which Stevens describes as "the biggest project of my career." He says proudly: "Working on the compilation of the tracks, with the varied styles of my music, collating the images, and other aspects of the release, has brought back many precious memories: hard times, good times, and everything in between.  "Nothing came easy, but I wouldn't change it for the world," he concludes. "I hope that everyone enjoys Fire In The Blood as much as we have while working on the project. The fire still burns – and always will."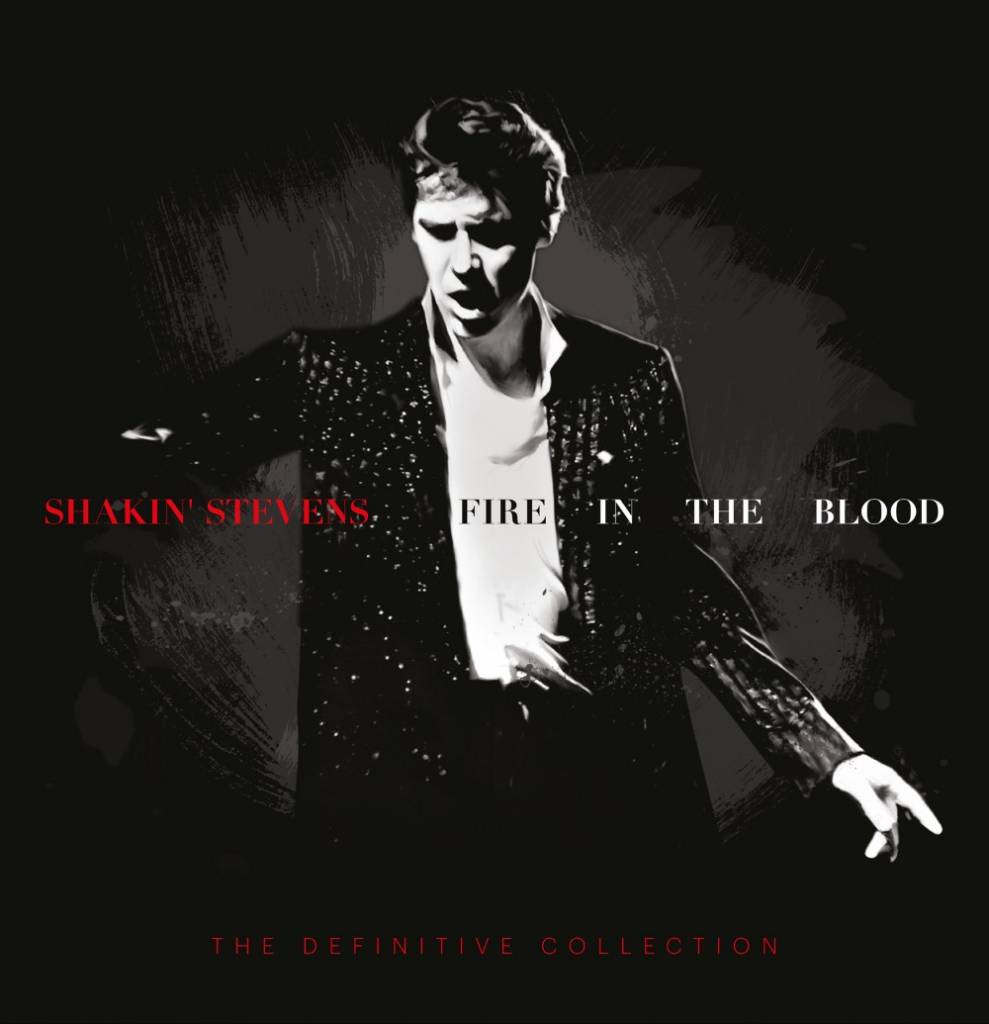 FIRE IN THE BLOOD – THE ULTIMATE COLLECTION
The truly definitive collection of this living legend's body of work as a solo artist.
'Fire In The Blood' is the biggest and most complete collection of Shaky's recordings ever undertaken – a celebration of the achievements of an enduring artist whose chart statistics, however phenomenal, tell only part of his story. From his solo debut album on Track Records, 'Shakin' Stevens', to the recent success of the album 'Echoes Of Our Times'. 
Stevens shares with the Beatles (60s), and Elton John (70s), the distinction of being the most successful UK singles chart performer of a decade (80s), as confirmed by the Guinness Book of British Hit Singles and Albums. His success was mirrored throughout Europe and Internationally, earning Platinum and Double Platinum, and Gold awards for his albums and singles. 
The release takes its name from the extended essay, exclusive to this release, by renowned writer Paul Sexton, which maps Shaky's rise to fame from humble beginnings.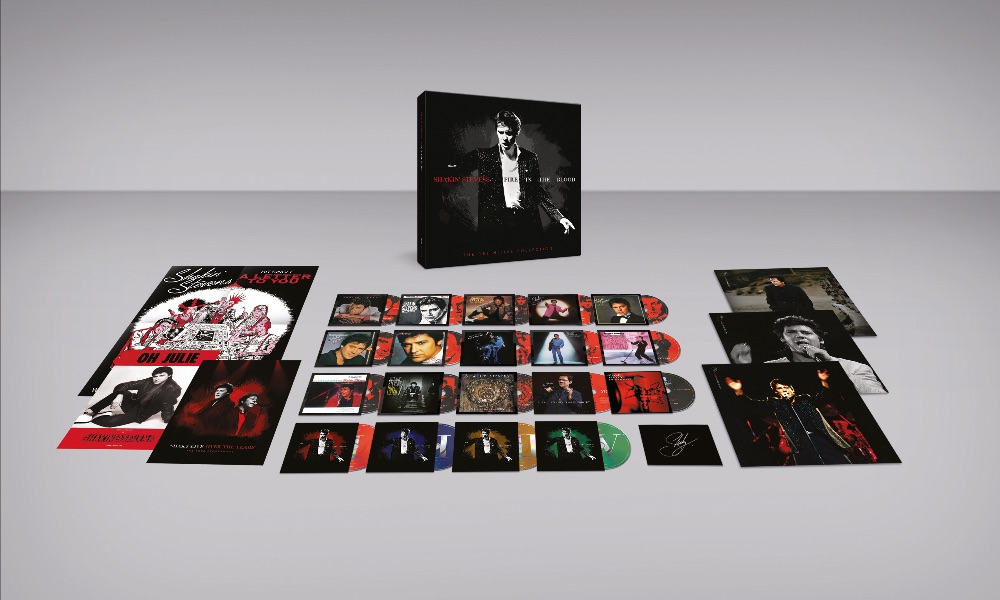 The collector of Shaky's releases will find a host of other content and rarities in this super deluxe career defining release, including:
*12" X 12" bound hardback Book-pack containing extended essay by Paul Sexton.
*19 CDs with 266 career-spanning tracks – many never previously available. Includes all of Shaky's studio albums as a solo artist, from his first signing and album on Track Records, to his latest studio album, 'Echoes Of Our Times', + 4 rarities discs with live, rare and previously unreleased tracks
*Shaky's first ever 'live' album release – taken from his 2019 tour of Europe and the UK, debuted on this unique release.
*Historic live concert recorded at the Paris Theatre, London, for BBC Radio 1 in 1980
*Two previously unreleased recordings
*Reproduced ultra-rare promo poster
*'Oh Julie' sheet music
*3 X 12"x12" art prints of Shakin' Stevens
*36 page Bespoke Tour Programme
*Autograph book, personally signed by Shakin' Stevens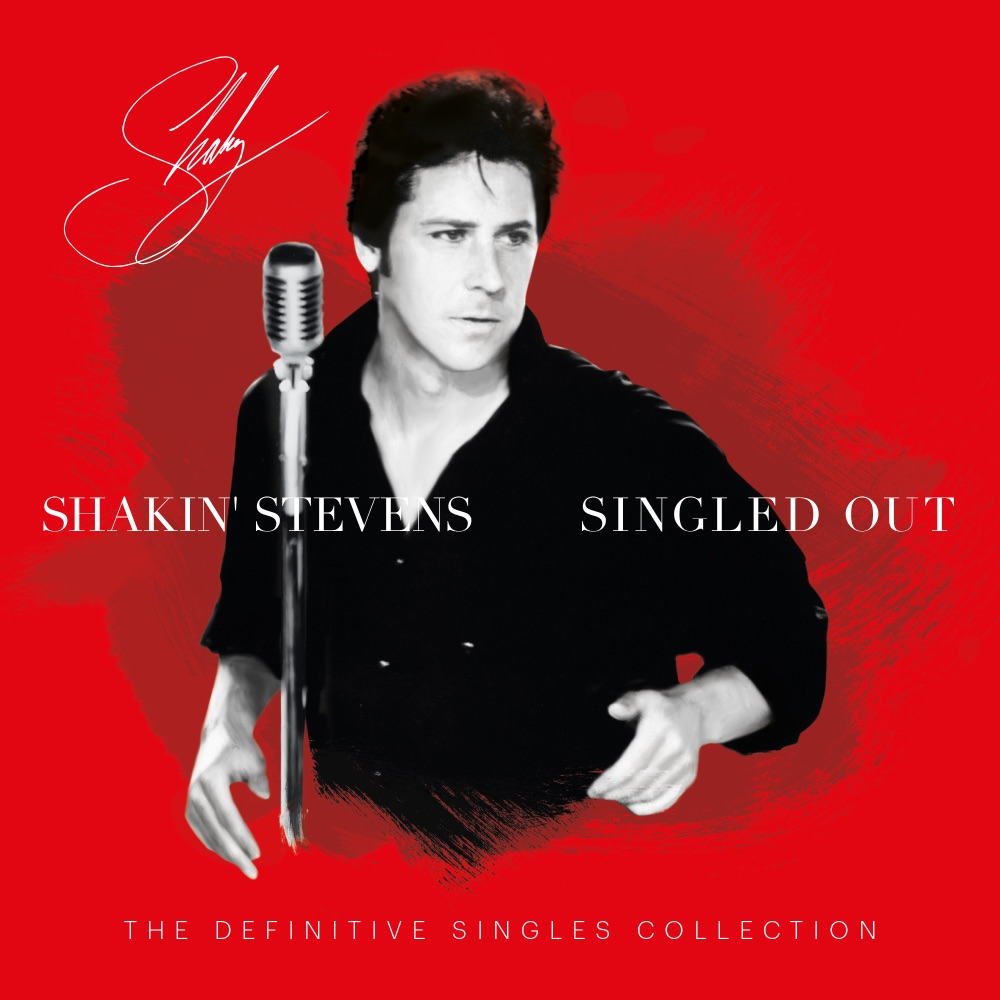 SINGLED OUT – THE DEFINITIVE SINGLES COLLECTION
The truly definitive singles collection of this living legend – featuring all of Shaky's singles released as a solo artist, highlighting the broad umbrella of styles from rock and country blues, to Cajun, and Americana to classic rock – and including all the classics hits.
'Singled Out' – the 3CD collection of singles is unique, in that it is the only release ever to feature all of Shaky's singles from throughout his solo career. Along with its 2LP counterpart – personally curated by Shaky, the 2LP features liner notes written by Shaky, providing personal insights into the background of his selected key tracks. The 2LP will also include a card, to enable the purchaser to download all 54 of the singles.
Exclusive to this release is also a brand new single 'Wild At Heart (Neros Single Version)'.
Pre-orders are available now! https://shakinstevens.lnk.to/fitbPR