Something For Kate announce national theatre tour this September-October
First tour in a brand-new concert series 'Double Or Nothing', where artists perform one of their classic albums in full followed by a second set of hits, rarities, and fan favourites
Tickets on sale: Monday 26 July (12noon local time)
Echolalia 20th anniversary vinyl re-issue to be released Friday 10 September (Sony Music Australia), pre-orders to commence August 6
Frontier Touring and Village Sounds are proud to announce that Melbourne trio Something For Kate, one of Australia's most influential bands, will head out on their first national headline tour in four years this coming September/October – the Echolalia x The Modern Medieval tour.
For one night only in each city, Paul Dempsey, Stephanie Ashworth and Clint Hyndman will go 'Double or Nothing' with the Echolalia x The Modern Medieval tour – performing two special sets per show in our country's most ornate theatre venues.
We've been unable to tour The Modern Medieval since its release last year and along with Echolalia turning 20 this year, we wanted to find a way to celebrate both albums so we decided to play two sets a night.
We'll be our own support band!
 
One set will feature Echolalia in full and the other set will be made up of songs from The Modern Medieval plus a mix of other favourites. This will be a rare and unique Something for Kate tour.We can't wait for these very special shows.' – Something For Kate
'Double or Nothing' is a brand-new concert series that offers a once-in-a-lifetime opportunity for fans see their favourite iconic Australian band play two very special sets over the course of one unique evening. It's an evening that celebrates albums embedded in the hearts, minds and collective DNA of Australian audiences. 
Something For Kate will perform at Perth's Astor Theatre on Friday 17 September, followed by Adelaide's Thebarton Theatre on Saturday 18 September. Melbourne's The Forum takes place on Thursday 23 September, with Brisbane's Fortitude Music Hall on Friday 8 October and Sydney's Enmore Theatre on Saturday 9 October.
Frontier Members will have access to tickets in their pre-sale from Thursday 22 July (12noon AEST) before tickets go on sale to the general public from Monday 26 July (12noon local time) via frontiertouring.com/somethingforkate.
With their masterful musical architecture, Something For Kate have earned 750,000+ Gold and Platinum sales across seven albums, amassed 11 x ARIA nominations and 14 x entries in triple J's Hottest 100. The quintessential songs are there: 'Déjà Vu', 'Monsters', 'Electricity', 'Cigarettes and Suitcases', 'Captain (Million Miles An Hour)', 'Survival Expert', 'Three Dimensions', 'Come Back Before I Come Back To My Senses' + many more.
Released in June 2001, Echolalia is Something For Kate's iconic Platinum-selling third album. Recorded with producer Trina Shoemaker (QOTSA, Sheryl Crow), it debuted at #2 and saw the band effortlessly execute one of the country's finest albums, Dempsey conquering a severe bout of writer's block. Earning 7 x ARIA nominations including Best Album, Best Group, and Channel [V] Artist of the Year, triple j listeners couldn't get enough. They voted Echolalia 'Best Album of 2001', three tracks entering 2001's Hottest 100 – hit single 'Monsters' #2. Voted 'Album Of The Year' by The Age, Daily Telegraph and Sunday Telegraph and Rolling Stone's Best Album, Best Artist and Best Band, Echolalia made the trio a main stage staple on festival stages nationwide.
To celebrate the album's 20th anniversary, SFK are also proud to announce a special, limited edition vinyl re-issue of Echolalia will be released on Friday 10 September (Sony Music Australia). Featuring new artwork, The 20th Anniversary edition of Echolalia will be on clear vinyl and on glorious gatefold, featuring images from the period and, for the first time, lyrics in Paul Dempsey's unmistakable handwriting. Pre-order for the re-issue will commence on August 6 – keep an eye on SFK socials.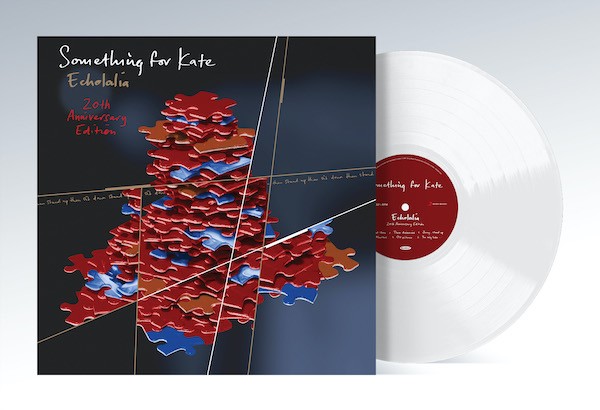 Nineteen years on, November 2020 saw the band enter the Top 5 yet again with seventh album The Modern Medieval – their first release in eight years. Recorded with Nick DiDia (Powderfinger, Pearl Jam, Bruce Springsteen) and mixed by Howie Beck (Feist, Chilly Gonzalez), Rolling Stone declared that "Something for Kate have returned with one of their finest albums to date, with The Modern Medieval leaving them feeling like a new band once again." Australian Guitar meanwhile said the recent offering was their "most ambitious, determined and intriguing body of work yet".
 
For one night only in each city, don't miss Something For Kate performing Echolalia x The Modern Medieval this Sept/Oct!
SOMETHING FOR KATE
ECHOLALIA x THE MODERN MEDIEVAL
AUSTRALIAN TOUR
SEPTEMBER/OCTOBER 2021
Presented by Frontier Touring and Village Sounds
FRONTIER MEMBERS PRE-SALE
via frontiertouring.com/somethingforkate
Runs 24 hours from: Thursday 22 July (12pm AEST)
or until pre-sale allocation exhausted

GENERAL PUBLIC ON SALE
Begins: Monday 26 July (12pm Local Time)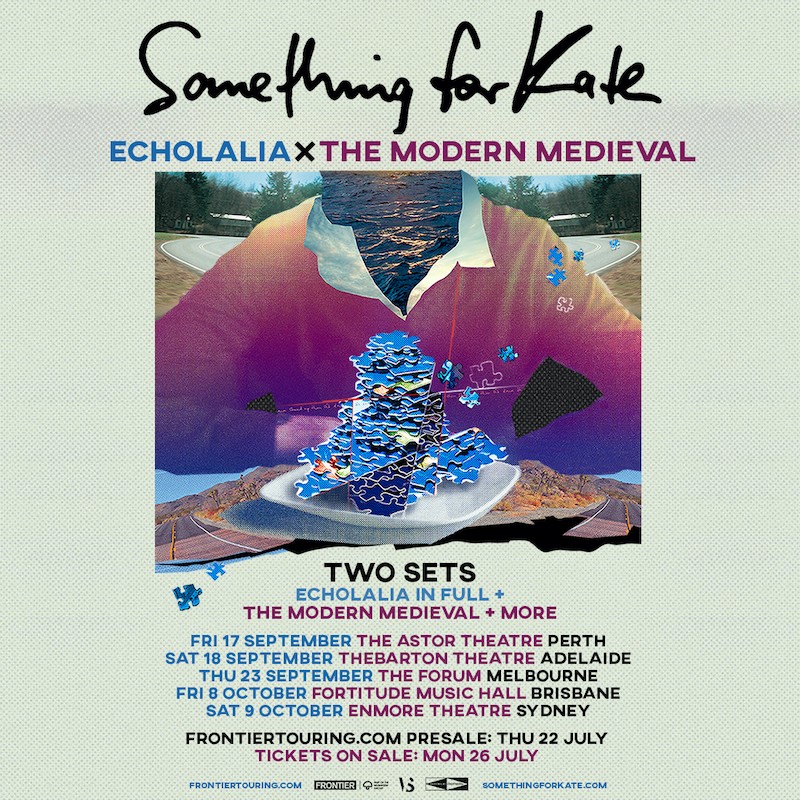 Patrons are advised to purchase tickets only through authorised ticket sellers.
We cannot guarantee any ticket purchase made through any means other than the official ticketing agents listed on the Frontier website.