Celebrate English-born Australian singer/songwriter, Ted Mulry, on what would have been his milestone 75th birthday (September 2, 1947), with some of Australia's finest performers performing a vast range of his hits.
Ted Mulry first burst on to the Australian Charts with his self-penned pop ballad 'Julia', reaching the Go-Set National Top 40 in May 1970. Mulry's next single, "Falling In Love Again", was arguably his biggest peaking at #11 on the charts. Celebrating that single's 50th anniversary in 2021 whilst also commemorating 20 years since Ted's passing, prolific singers that were in the forefront of Australia's pub-rock circuit in the 1970's, will gather to pay tribute and celebrate Ted's rich musical history.
Master of Ceremonies, Glenn A Baker, will lead a procession of singers taking centre stage in Thirroul, Penrith, Newcastle and at Sydney's iconic rock venue, Enmore Theatre in September 2022. Special guest performers include Peter Cupples (Stylus), Alison MacCallum, Harry Young (Harry Young and Sabbath), Tony Romeril (Autumn), Simon McCullough, Dan McGahan, Ash Morse, Glenn Bidmead, Bobbi Marchini, Amanda Easton, Jo Elms, and for the Sydney show only… special guest, Gary Dixon (Ted Mulry Gang).
Backed by some of the finest musicians in Australia including bassist Mark Costa, drummer Mitch Farmer, guitarist, Marc Malouf, Stylus keyboardist, Sam McNally, and guitarist Doug Weaver, together they will perform a catalogue of songs written by Ted Mulry over his career spanning three decades, this is a concert celebration that's not to be missed. Featuring all the hits from Ted's early years along with many tracks from the two solo albums, intermingled with a selection of songs from the years with Ted Mulry Gang, including, 'Sunday Evenings', 'Train', 'She's A Killer', 'Woman In Love', 'Too Bad', 'How Long', 'Linda' as well as his last recordings and several previously unreleased songs.
From September 1972 after six solo singles and two albums, Ted paused his solo career and, along with Les Hall, Herman Kovac and Gary Dixon, formed Ted Mulry Gang [aka TMG], for which Ted fronted. The band produced the 1975 hit single "Jump In My Car" which topped the national singles charts. From there, the hits continued with ten top 40 singles, four of which reached the top 10.
Ted was also a prolific songwriter writing for other artists including John Farnham, Bullet, Mr. George, Mike Furber, Bobbi Marchini, Hot Cottage, Alison MacCallum and Sherbet.
FRIDAY SEPTEMBER 2 2022: ANITAS THEATRE – THIRROUL BOOKINGS: www.ticketmaster.com.au | 136 100
SATURDAY SEPTEMBER 3 2022: THE JOAN THEATRE – PENRITH BOOKINGS: www.thejoan.com.au | 02 4723 7600
SUNDAY SEPTEMBER 4 2022: ENMORE THEATRE – SYDNEY (4PM) BOOKINGS: www.ticketek.com.au | 13 28 49
MONDAY SEPTEMBER 5 2022: CIVIC THEATRE – NEWCASTLE BOOKINGS: www.civictheatrenewcastle.com.au | 02 4929 1977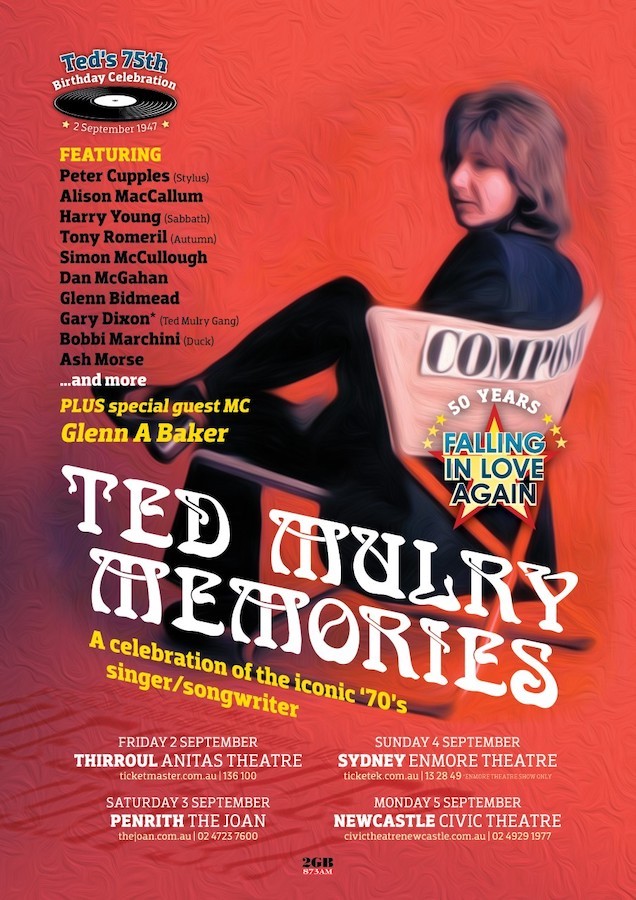 ABOUT THE SINGERS
Stylus, fronted by Peter Cupples, formed in 1975 and became the only Australian act to be released by US record label, Motown Records. Stylus were very popular on the Australian pub circuit for their hits "Summer Breeze", "World of Make Believe", "So Much Love" and "Workout Fine" and also toured supporting George Benson, Average White Band, Ike & Tina Turner, and Little River Band. The group disbanded in 1979.
Australian rock singer, Alison MacCallum, became the first Australian female artist to ever have a charting album and quickly became one of the most in-demand band singers in Sydney, compared to the likes of Janis Joplin. Her two studio albums are Fresh Water (March 1972) and Excuse Me (October 1975). In March 1972 she issued her most successful charting Harry Vanda & George Young composition, "Superman", which peaked at No. 12 on Go-Set's National Top 40.
Playing resident at the Coogee Bay Hotel six nights a week, Harry Young and Sabbath's British-influenced rock combo gained recognition with their cover version of the Christie (UK) hit "San Bernadino" which had moderate success for the band. Their second single "The Wheat In The Field" (1971) became their hit which peaked at #29 on the singles chart. Soon after their third single "Paper Girl", the band called it quits.
Forming in 1969, Autumn – fronted by Tony Romeril, catapulted to the top of the Go-Set National Top 60 singles chart in 1970 with their cover version of "Yellow River". Autumn had top 40 hits throughout 1971 with "Looking Through the Eyes of a Beautiful Girl", "She Works in a Woman's Way" and "Falling". They released two albums, "Song to Raymondo" and "Comes Autumn", both in 1971 before disbanding in the UK early in the following year.
Glenn Bidmead is an accomplished singer, songwriter, musician, live performer and producer. Not only has he released several albums of his own including Seven Seconds and Songs In Black & White, he has co-written with many successful Australian and International songwriters such as Keith Urban, Mick Jones (Foreigner), The Veronicas, and Brooke McClymont (The McClymonts).
Ash Morse, Dan McGahan, Simon McCullough (who also was a featured singer in both AC/DC covers Bon But Not Forgotten and Blood Sweat and Beers) are all very accomplished singer/songwriters with vast career achievements spanning from the 80's and continuing to this very day.