Irish Celtic infused pop icons, The Corrs will return to Australia in October and November 2023 for a seven date national tour. Joining them will be Aussie pop royalty Natalie Imbruglia the legendary Toni Childs and Adelaide trio, Germein.
After stunning the 13 000 strong crowd at the Hunter Valley's Hope Estate Winery with their incredible and enchanting live show in late November, The Corrs are thrilled to return in 2023 and bring their music to fans all over the country. The One Night Only, Hope Estate show was a night to remember and fans welcomed the band's return with a fervour that can only be describe as exhilarating!
The Corrs comment on the recent show and their return; "Returning to Oz was a dream come true! What a spectacular night and audience – we loved every second! Can't wait to see you all for a full tour next year!"
Promoter Andrew McManus ads; "It's been two years since we first approached The Corrs with our plan for them to reform and perform here in Australia, throughout that time we've lived through Covid and the lockdowns, Australian border closures and so much more. Taking everything into account over our journey from our first approach to watching the bands brilliance on stage when they performed live at Hope Estate was an incredibly proud achievement by my team. I observed the tenacity of their agent in the UK, refusing to give in regardless of the obstacles which spurred our resolve here in Australia to bring this project home. Adding the spectacular display of the choreography of 500 drones moving in synch to the final two songs during the encore is another achievement of which we are proud."
"What a band, what a night, what an experience, more than great memories in music, a band that hasn't missed a beat and presented one of the concerts of the year".
One of Australia's most loved pop artists, Natalie Imbruglia first stole our hearts over a quarter of a century ago with her chart topping smash hit cover of the iconic track, Torn, the most played song on Australian radio since 1990! Since then she has released six studio albums and in 2021 she made a triumphant return with her critically acclaimed, Top 10 album, 'Firebird'. Natalie has won 8 Aria's, 2 Brit Awards, one Billboard Music Award and received three Grammy Nominations! 
Most recently, Natalie had a cameo in the final ever episode of Neighbours where she played Beth Brennan through the 90's and won the third series of the UK version of The Masked Singer.
Natalie comments: "I'm thrilled to be joining The Corrs on their 2023 Australian Tour. Their Hunter Valley show was incredible and they are such an iconic and beloved band. I can't wait to bring my show to Australia and be back in front of a home crowd, it's very exciting!"
Emmy winner and three-time Grammy nominated recording artist, installation artist and environmental activist Toni Childs is currently touring Australia on her Retrospective tour until April 2023, Toni will return with The Corrs in October, bringing with her an engaging show involving film, 3D mapping, animation, lighting, set design and interactive components.
With an instantly recognisable voice and a string of international hits such as: Don't Walk Away, Stop Your Fussin, House of Hope, I've Got To Go Now and Because You're Beautiful. plus three new works, It's All a Beautiful Noise, Reef 360 and Citizens of the Planet, Toni's set will be filled with light, love, inspiration, thoughts and stories.
Toni Childs comments; "Super excited to be touring again… and how much fun is it going to be touring with this line up of  talented women! What can I say, my tail is wagging!!"  
Also playing all shows are Adelaide based pop trio, Germein. Featuring siblings, Georgia, Ella and Clara, Germein add to the family feeling of this special evening. With a host of international tours under their wings, including opening for Cheap Trick, Phil Collins, Ronan Keating and The Corrs at Hope Estate among many and a list of accolades to rival even those most long running of acts, Germein will absolutely get the party started for the evening ahead.
With people flying in from countries all over the world to attend the Hope Estate show, The Corrs remain a global phenomenon. Get in fast as tickets will be in high demand! 
THE CORRS – 2023 Tour Dates
with Special Guests Natalie Imbruglia, Toni Childs and Germein
Wednesday, October 25: RAC, Perth, WA
Saturday, October 28: Sandstone Point Hotel, Bribie Island, QLD
Sunday, October 29: Aware Super Theatre, Sydney, NSW
Tuesday, October 31: Newcastle Entertainment Centre, Newcastle, NSW
Thursday, November 2: Adelaide Entertainment Centre, Adelaide, SA
Saturday, November 4: UTAS Stadium, Launceston, TAS
Monday, November 6: Rod Laver Arena, Melbourne, VIC
VIP packages will be available for all shows, please check the One World website for more information.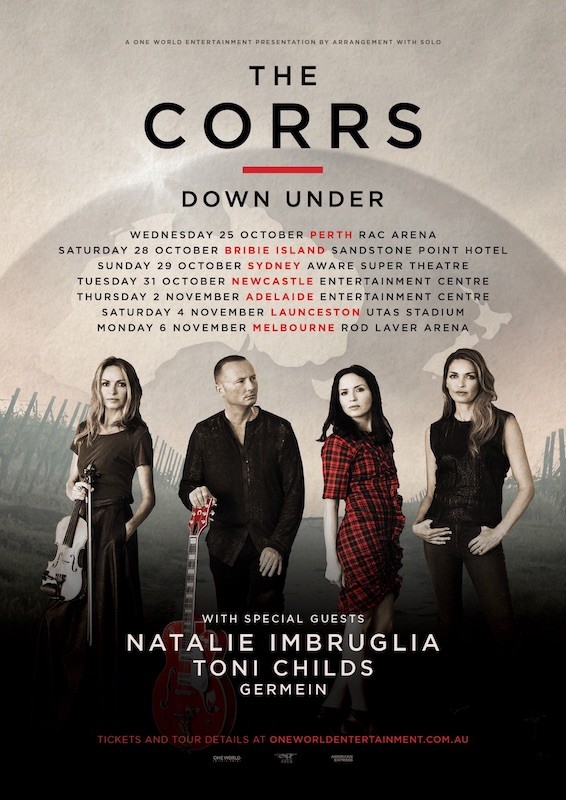 Watch the tour trailer here
https://youtu.be/2gfxZe1Dpw4
TICKET INFORMATION
AMEX Exclusive Pre-sale
Friday, December 9 @ 9.00am
One World Entertainment Members Pre-sale
Monday, December 12 @ 9.00am
General Public On Sale
Tuesday, December 13: 9.00am local time
All times AEST
For ticketing and event information visit
oneworldentertainment.com.au