On the heels of a whirlwind debut that included a GRAMMY® Award nomination for his first-ever single, #1 debuts on multiple charts, television performances, and sold out shows over a two-year span, Mammoth WVH is back with its second album Mammoth II. The 10-track record will be available worldwide on August 4 via the band's new label, BMG. 
Recorded at the legendary 5150 studio, the album was produced by friend and collaborator Michael "Elvis" Baskette, Mammoth II is available for pre-order in multiple configurations at: 
MammothWVH.lnk.to/MammothIIPR 
Continuing the tradition of writing all of the songs and performing all of the instrumentation and vocals himself, Wolfgang Van Halen set out to challenge himself to expand his sound beyond what people had already come to know him for. From the rocking opener "Right?" to Beatles-esque fade on closer "Better Than You" Mammoth II showcases the growth of Wolfgang as a songwriter, musician and especially vocalist.  Songs like "Like A Pastime," "Take A Bow" and "Waiting" are all sonically different from each other but unique to what mastermind Wolfgang Van Halen and Mammoth WVH is. The debut single from Mammoth II is the upbeat rocker "Another Celebration At The End Of The World." The single is currently impacting radio and the music video for "Another Celebration At The End Of The World" is an 8:25 introduction to the Mammoth WVH live band. 
Picking up where the #1 single "Don't Back Down" music video left off, the new video showcases a frustrated Wolfgang firing the other Wolfgang's from that video and replacing them with his now notorious live band featuring Frank Sidoris (guitars), Jon Jourdan (guitars), Ronnie Ficarro (Bass) and Garrett Whitlock (drums).  
Stream the track here
mammothwvh.lnk.to/AnotherCelebrationAtTheEndOfTheWorld
"I knew that I wanted the new album to contain elements of what people heard on the debut, but also giving me a chance to branch out a bit. 'Another Celebration At The End Of the World' is definitely a song that showcases what people can expect from the new album. It is a high-energy rocker with some fun guitar moments on it. I also pushed myself vocally and it is a song I can't wait to get out and play live. I can see it being a fixture in our live set moving forward," explains Wolfgang Van Halen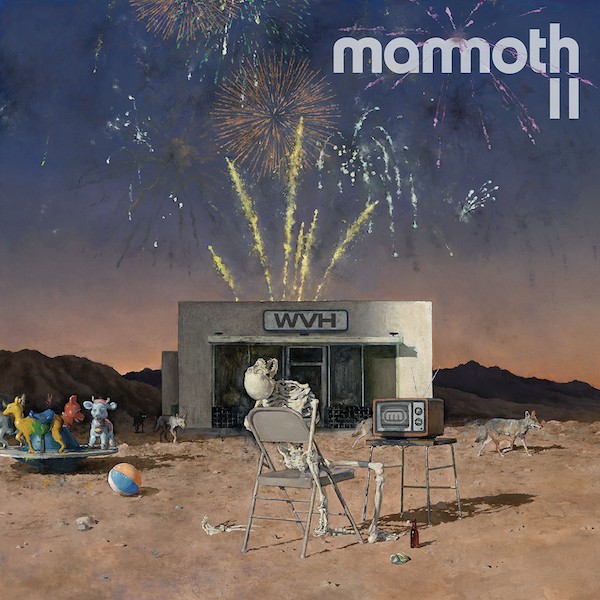 The track listing for Mammoth II is:
1. Right?
2. Like A Pastime
3. Another Celebration At The End Of The World
4. Miles Above Me
5. Take A Bow
6. Optimist
7. I'm Alright
8. Erase Me
9. Waiting
10. Better Than You
Mammoth WVH is planning to tour around the globe in support of Mammoth II. The live band – comprised of Wolfgang Van Halen, Frank Sidoris, Jon Jourdan, Ronnie Ficarro and Garrett Whitlock – is currently on the second leg of the US tour supporting Alter Bridge before moving to another massive tour playing alongside Metallica. Mammoth WVH will also be making various festival appearances around the globe as well as headline stops going in to 2024. More dates will be announced in the near future tickets for all Mammoth WVH appearances can be found here: www.mammothwvh.com 
About Mammoth WVH:
With his solo band Mammoth WVH, Wolfgang Van Halen consistently challenges himself as a songwriter, vocalist, multi-instrumentalist, and producer. After a monumental breakthrough – with a GRAMMY® Award nomination for his first-ever single, #1 debuts on multiple charts, television performances, and sold out shows over a two-year span – Mammoth WVH's self-titled debut sent shockwaves through 21st century rock music. 
Mammoth WVH bowed at #1 on the Billboard Independent Albums Chart, Top Hard Rock Albums Chart, and Top Rock Albums Chart in addition to crashing the Billboard 200 at #12. He notched two #1 one entries at Rock Radio with "Don't Back Down" and "Distance." The latter also garnered a GRAMMY® Award nomination in the category of "Best Rock Song." He appeared on The Howard Stern Show, NBC News TODAY, Jimmy Kimmel Live and on the cover of Guitar World where they dubbed him Guitarist Of The Year. Loudwire cited Mammoth WVH as one of "The 45 Best Rock + Metal Albums of 2021," while Classic Rock rated it "4-out-of-5 stars" and People proclaimed, "With Mammoth WVH's head-banging tracks and personal lyrics, Wolfgang successfully introduces himself as his own person." The band supported Guns N' Roses in stadiums stateside and Alter Bridge in arenas across the pond, while also headlining coast-to-coast in North America. Not to mention, he lit up the stage at the Taylor Hawkins Tribute Concerts in London and Los Angeles at the invitation of Dave Grohl himself. 
Instead of choosing to settle on his breakout success, he consciously tested himself to further develop his sound from every angle on his second full-length offering, Mammoth II [BMG]. Coming out swinging, the hooks hit harder, the riffs roar louder, and the lyrics cut deeper as he delivers an urgent, undeniable, and unforgettable 10-song body of work.
Connect with Mammoth WVH
Web | Facebook | Instagram | Twitter | YouTube