NEW SINGLE, THIS DON'T LOOK LIKE VEGAS – OUT NOW!
Guns N' Roses
 keyboardist, 
Dizzy Reed
, has dropped the lead single, 
This Don't Look Like Vegas
, from his upcoming 2018 debut solo album, 
Rock 'n Roll Ain't Easy
, out on digital, CD and 
purple vinyl
through 
Golden Robot Records
 on 16 February.
Written by Dizzy Reed, Ricky Warwick (Thin Lizzy, The Almighty, Black Star Riders) and Del James, This Don't Look Like Vegas, features Warwick and Mayuko Okai on guitar, with fellow Gunner, Richard Fortus (Guns N' Roses, Psychelic Furs, Thin Lizzy), bringing the guitar solo.  Mike Dupke's (W.A.S.P.) on drums, Mike Duda (W.A.S.P.) on bass, Reed on lead vocals, piano, shaker and tambourine, with backing vocals from Nadja Reed, Chela Johnson and Del James.
"While initially undercut by prominent keys, This Don't Look Like Vegas quickly settles into a swaggering slice of classic rock, led by big riffs and Reed's own touchstone lyrics of dark shades, flexibly applicable gambling metaphors, shotgun weddings, fire, fury, brimstone etc. It's all scenes of beautifully filthy bar band blues, the stuff of Sunset Strip nights, endless whiskey shots and a hedonistic heaven where, as Reed eloquently puts it, 'nothing is certain.'"
– Rolling Stone Australia
Rock 'n Roll Ain't Easy is 12 tracks of rock (or 13, if you download the digital version, which comes with a bonus track!) with Reed uniting with fellow members of Guns N' Roses, along with some other greats, including players from W.A.S.P., Quiet Riot, Psychedelic Furs, Thin Lizzy, No Doubt, The Replacements, Queens of the Stone Age, and more.
PRE-ORDER ROCK 'N ROLL AIN'T EASY VIA DIGITAL, JB HI-FI, AND SANITY
(PURPLE VINYL AVAILABLE EXCLUSIVELY FROM THE SFR STORE
http://smarturl.it/DizzyReed-RockNRAE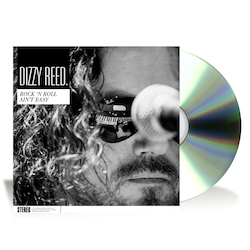 CD & Vinyl
Track Listing
01 This Don't Look Like Vegas
02 Mother Theresa
03 Cheers 2 R Oblivion
04 Fragile Water
05 Dirty Bomb
06 Mystery In Exile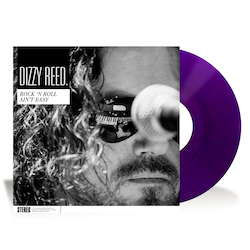 07 I Celebrate
08 Understanding
09 Crestfallen
10 Forgotten Cases
11 Reparations
12 Rock 'n' Roll Ain't Easy
(Bonus Digital Track:  Splendid Isolation)