It's reigning women on the latest compilation album curated by music guru Ian "Molly" Meldrum.
Molly has selected 38 of his favourite songs for Molly's Women Of Rock & Pop, including chart-toppers such as Blondie's 'Heart of Glass', Bonnie Tyler's 'Total Eclipse of the Heart', Kim Carnes' 'Bette Davis Eyes', Nena's '99 Luftballoons', Kim Wilde's 'You Keep Me Hangin' On', and Laura Branigan's 'Gloria'.
Molly says the album is "a celebration of some of the finest female talent of the past 40 years".
Most of the songs on the two-disc set come from the Countdown era. "Women contributed so much to the Countdown playlist," Molly says.
"There was never any sexism or discrimination at Countdown. We didn't care if a song was by a male, female or transgender artist; straight or gay; local or international … if we liked it, we played it."
The compilation also features some classic homegrown hits, including Eurogliders''Heaven (Must Be There)', Divinyls' 'Pleasure and Pain', Baby Animals' 'One Word', I'm Talking's 'Trust Me', Deborah Conway's 'It's Only The Beginning', Electric Pandas' 'Big Girls', and Pat Wilson's 'Bop Girl'.
Molly's Women Of Rock & Pop is released on Bloodlines, part of the Mushroom Group of labels. It follows the previous Molly compilations, 2016's Counting Down The Hits and 2017's Molly's Jukebox Classics – both top 5 hits on ARIA's compilation chart – plus the double platinum soundtrack to the MOLLY mini-series, which topped the ARIA charts and spent four months in the Top 10.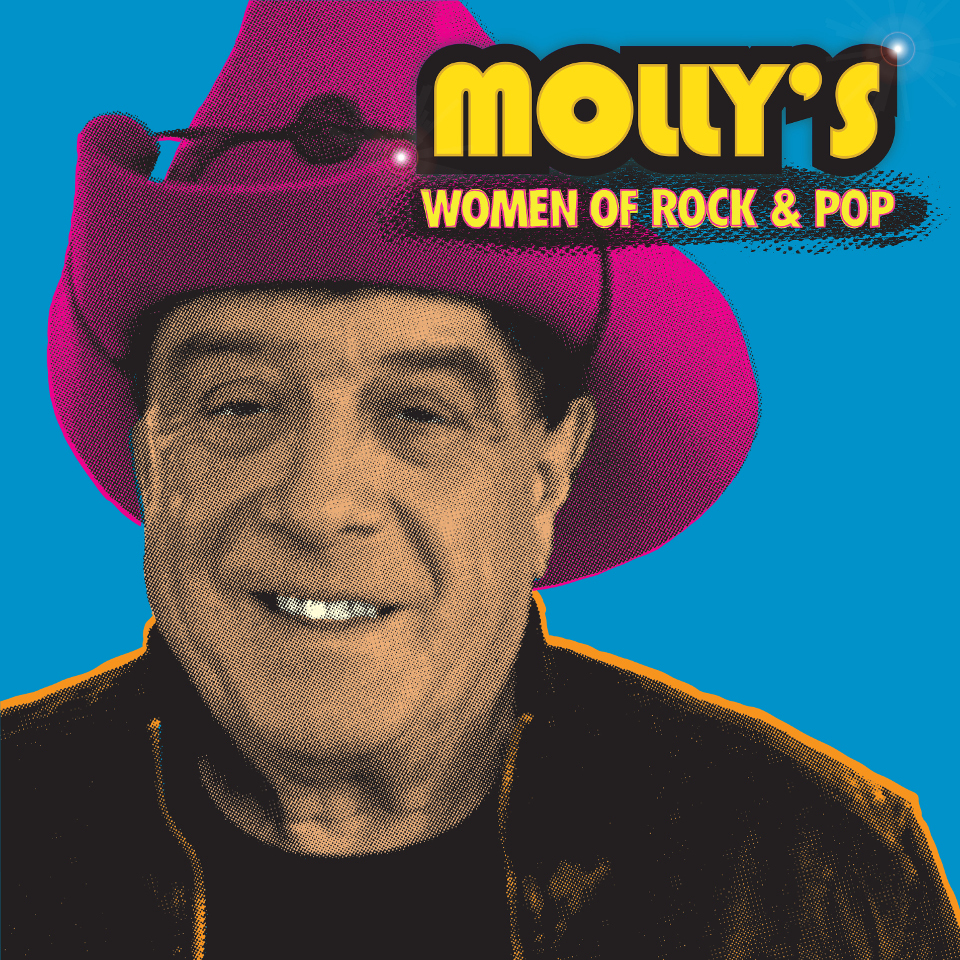 Molly's Women Of Rock & Pop Album
Out Now – Order  here
Molly's Women of Rock & Pop tracklist:
1. Blondie – Heart Of Glass
2. Bonnie Tyler – Total Eclipse Of The Heart
3. Kim Carnes – Bette Davis Eyes
4. ABBA – The Winner Takes It All
5. Cyndi Lauper – True Colors
6. Nena – 99 Luftballons
7. Eurogliders – Heaven (Must Be There)
8. Eurythmics – Sweet Dreams (Are Made of This)
9. Kim Wilde – You Keep Me Hangin' On
10. The Go Go's – Our Lips Are Sealed
11. Laura Branigan – Gloria
12. Taylor Dayne – Tell It To My Heart
13. Samantha Fox – Touch Me (I Want Your Body)
14. Sharon O'Neill – Maxine
15. Electric Pandas – Big Girls
16. The Pointer Sisters – I'm So Excited
17. The Weather Girls – It's Raining Men
18. Baby Animals – One Word
19. I'm Talking – Trust Me
20. Pat Benatar – Hit Me With Your Best Shot
21. Divinyls – Pleasure And Pain
22. Bangles – Manic Monday
23. Alannah Myles – Black Velvet
24. 4 Non Blondes – What's Up?
25. Pretenders – Back On The Chain Gang
26. Deborah Conway – It's Only The Beginning
27. Promises – Baby It's You
28. Tiffany – I Think We're Alone Now
29. Paula Abdul – Straight Up
30. Missing Persons – Words
31. Juice Newton – Angel Of The Morning
32. Suzanne Vega – Luka
33. Pat Wilson – Bop Girl
34. Aretha Franklin – Freeway Of Love
35. Dolly Parton – 9 To 5
36. Martika – Toy Soldiers
37. Baby Animals – Painless
38. I'm Talking – Holy Word