With an award-winning music career spanning more than 30 years, it's high time for Troy Cassar-Daley to release a Greatest Hits showcasing his extraordinary career.
In the 30 plus years of making music, Troy has been awarded countless accolades including 4 ARIAs, 36 Golden Guitars, 2 APRA Country Song of the year awards, 9 Deadlys (Australian Indigenous Artist Awards), 4 CMAA Entertainer of the Year awards plus 2 NIMAs.  In 2017 Troy was also honoured as the 50th inductee into country's music prestigious 'Australasian Roll Of Renown'.
With multiple Gold and Platinum sales awards, Troy has also earned a staggering 31 #1 hit singles, all of which are collected on this new Greatest Hits, alongside timeless album cuts and two brand new songs – 'Wouldn't Change A Thing' and 'Shadows On The Hill'.
"I'm really proud of 'Wouldn't Change a Thing' because I wanted to write something reflective about my life and others around. Looking back over this collection of songs across my whole career I can reflect on the great times such as celebrating my first Golden Guitar or ARIA Award and in contrast the periods where I have doubted myself and my music, felt alone. But at the end of the day, I say to myself "I wouldn't change a thing."
In the end, as at the beginning, it all comes back to the bare essentials being one man and his guitar who is a compelling performer and equally one of Australia's most accomplished songwriters.
The vast majority of the songs on Greatest Hits were born with these elements, and in 2019 Troy will be hitting the road for a national acoustic tour, presenting his songs and the stories behind them in their most pure form. A celebration of an extraordinary career.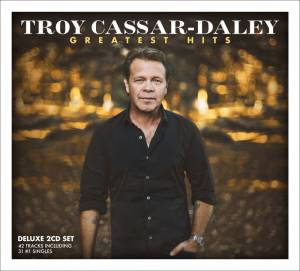 Track listing:
1. Wouldn't Change A Thing
2. Proud Young Man
3. Dream Out Loud
4. End Of The Road
5. Ramblin' Man (feat. Tommy Emmanuel)
6. Little Things
7. Bar Room Roses
8. Ladies In My Life
9. The Biggest Disappointment (feat. Slim Dusty)
10. True Believer
11. They Don't Make 'Em Like That Anymore
12. Trains
13. I Wanna Go Back
14. V8 Town
15. 40 Miles
16. Born To Survive
17. Long Way Home
18. Wish I Was A Train (feat. Paul Kelly)
19. Make The Most (Of Every Day With You)
20. Yer So Bad
21. River Boy (feat. Shane Howard)
22. Lonesome But Free
23. Going Back Home
24. Get Away Car (feat. Kasey Chambers)
25. Walking Away
26. Everything's Going To Be Alright
27. Last Mile Home
28. Bird On A Wire (feat. Jimmy Barnes)
29. Big, Big Love
30. Sing About This Country
31. I Love This Place
32. Chasin' Rodeo
33. Country Is
34. Live and Learn
35. Home
36. Lights On The Hill (feat. Adam Harvey)
37. Take A Walk In My Country
38. Freedom Ride (feat. Paul Kelly)
39. Another Australian Day
40. Things I Carry Around
41. Halfway Creek, Timber Cutting Man
42. Shadows On The Hill
For more information visit https://troycassardaley.com.au/