It isn't often that someone has to wait 40 years to see one of their favourite bands perform live but that's what happened when I finally got to see Stars at the Centro in Wollongong last night. I can happily say, it was well worth the wait!
Back in 1977, when the band was starting to make it in the emerging pub music scene, I was too young to go, and by the time I was old enough, they had gone their separate ways due to the untimely death of the main songwriter, Andy Durant, from cancer at the young age of 25.
They were one of those bands back in the 70's where many people knew the songs but didn't really know who performed them.  As a fan, I couldn't help but wonder which favourites would make it onto their set list tonight.
The venue had drawn a good crowd of loyal and devoted followers.  There was an excited and cheerful atmosphere as we sat there enjoying our pre-show dinner.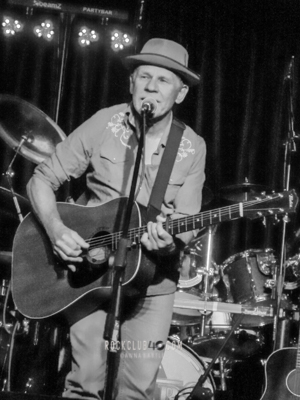 The support was a chap named Kelly Cork who was a great storyteller through his music.  During his acoustic performance, he explained the inspiration behind each song with humorous banter about his life and family.  A big fan of Stars, he often remarked how humbled he was to be there.  Thanks for a great set Kelly and we look forward to enjoying your CDs!
Finally, Stars!!  With Mick Pealing fronting the band, they took to the stage and launched into two tracks from their fabulous new album.  Beginning with Time Stands Still, an upbeat tribute to their past, it included song titles and places they had visited all those years ago.  They kept up the pace with the album's title track, Boundary Rider.  The crowd were up and dancing by the third song, Back Again (from their first album) which featured guitarist Mal Eastick on the voice box.  This was a very special evening and we wanted more!
Next up, a string of tunes from their first two studio albums, with songs such as Paradise (which featured backup vocals by Cheetah on the original album), Land of Fortune, West is the Way, Last of the Riverboats and the Mal Eastick penned Jupiter Creek.  It was a welcome surprise hearing the lesser known Jupiter Creek, a number I didn't think would make it onto the set list.  I couldn't wipe the grin off my face.
We were then treated to more new music with Mick's Dream and A place in your Heart, which were well received.  I marveled at how well the new songs blended in with the old and just how good they were.  The guys were looking happy and relaxed, Mick's vocals were strong and effortless, and I was impressed by the arrangements and the musicianship of these Aussie music legends.  Even my companion, who was hearing Stars for the firs time, was hooked.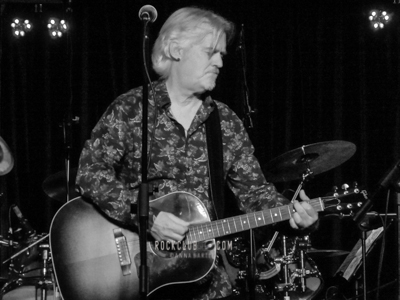 Interestingly, there was a song that was released after the Land of Fortune album called Jive Town that never made it onto a studio album.  Thankfully, this has been corrected as it now appears on Boundary Riders.  It was written by the late Andy Durant about the times he went home to Adelaide, only to leave again as soon as he could!
It seems that every gig has one of those dark and brooding songs and Ocean Deep was no different. Written by Durant, it was released by Broderick Smith's, Big Combo, who were also around the time of Stars in the late 70's.  It was one of the last songs that Andy wrote before his passing and it was very moving to hear it tonight.
The last three songs were Look after Yourself/Redneck Boogie (another song that I was surprised to hear) and they closed with their famous pub classic, Mighty Rock, with its familiar opening riff.
The crowd weren't going to let Stars off that lightly and demanded an encore, for which they duly obliged with their own A Song for the Road and their version of Joe Walsh's Rocky Mountain Way, which was on their live album 1157.  The latter featured brief solos from Roger McLachlan on bass, Nick Charles on guitar and Glyn Dowding up the back on the drums.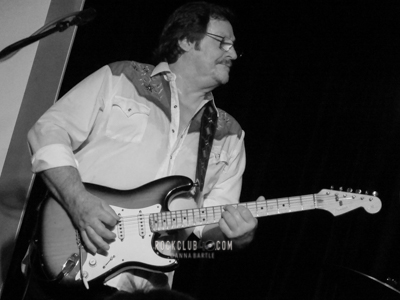 Roger is a master of the bass guitar and I've never heard some of the sounds he was generating on it tonight, amazing!
The songs evoked a lot of emotion and memories from the late 70's when I had just entered high school, and to finally hear them live was a surreal and truly satisfying experience.  I heard another punter make a similar comment as we lined up to get the new album signed by the band.
There are just 3 more dates left on this tour and if you are nearby, I urge you to go!  And if you are a fan of great Australian music, make sure you get a hold of the new album, I guarantee you'll love it.
Thank you Stars for helping us create new memories and please don't make me wait another 40 years to create more!
© PAUL BARTLE 2018.  All Rights Reserved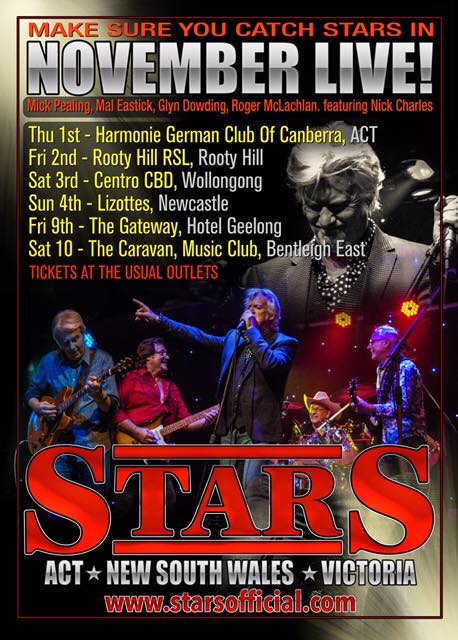 Love STARS? Share this review with your friends.