Following the announcement on the weekend of their forthcoming appearance at the AFL Grand Final, iconic Australian band Goanna have announced an extra show of their Spirit of Place 40th Anniversary tour, which is set to resume this weekend with shows in Newcastle and Sydney before heading to Western Australia, Tasmania, Victoria, the ACT, NSW's South Coast, and South Australia before the end of the year.
The additional show of Goanna's tour has been announced for their old hometown of Geelong. It will take place at Costa Hall on Friday 18 November. Tickets go on sale at 9am on Thursday 15 September at https://geelongartscentre.org.au/whats-on/all-events/goanna/
The new show follows the recent addition to Goanna's tour of a guest appearance on Midnight Oil's last ever WA show (Sun Sep 25 – Nikola Estate, Perth), a Goanna headline show at the Freo Social (Mon Sep 26) and, to finish their Spirit of Place 40th Anniversary tour in good company, an appearance at the recently announced Harvest Rock festival in Adelaide (Sat 19 Nov).
Goanna will perform with special guests First Nations artists Christine Anu, Emma Donovan, Tasman Keith and William Barton as part of the Half-Time Entertainment at the 2022 AFL Grand Final at the MCG on Saturday 24 September.
Additionally, Goanna's "Let The Franklin Flow" features prominently in Franklin, a feature-length documentary about Australia's most significant environmental campaign: the battle to save Tasmania's World-Heritage listed Franklin River from being dammed by a hydroelectric project in the early 1980s. Franklin is in Australian cinemas now.
Goanna have also announced support acts for their tour with sensational artists joining them at every stop on the road.  The list includes long-time fan Troy Cassar Daley in Sydney, legendary No Fixed Address drummer/singer Bart Willoughby in Melbourne, and Warumpi Band songwriter/guitarist Neil Murray in Ballarat.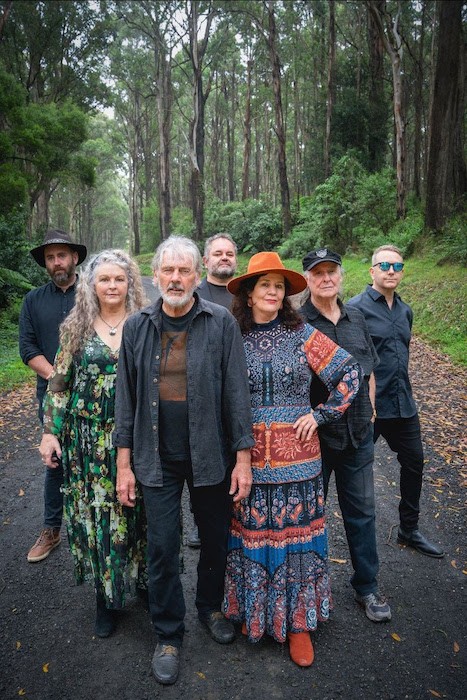 The complete list of remaining shows, with support acts, is as follows:
GOANNA TOURING ON COUNTRY 2022
Sat Sep 17 – Civic Theatre, Newcastle, NSW – Awabakal/Worimi
with Special Guest ROBBIE MILLER TICKETS
Sun Sep 18 – Enmore Theatre, Sydney NSW – Gadigal/Eora
with Special Guest TROY CASSAR DALEY TICKETS
Sun Sep 25 – Nikola Estate, Perth, WA – Whadjuk Noongar
Special Guests for Midnight Oil TICKETS
Mon Sep 26 – Freo Social Club, Perth, WA – Walyalup
with Special Guests THE STRUGGLING KINGS TICKETS
Fri 07 Oct – Princess Theatre, Launceston, TAS – Tyerrernotepanner/Lutruwita
with RUSSELL SMITH on YIDAKI and Special Guest CLAIRE ANNE TAYLOR TICKETS
Sat 08 Oct – Odeon Theatre, Hobart, TAS Nipaluna/Lutrawita
with RUSSELL SMITH on YIDAKI and Special Guest CLAIRE ANNE TAYLOR TICKETS
Thu 27 Oct – Lighthouse Theatre Warrnambool, VIC – Warrnambool/Peek Wurrong
with Special Guest FLYNN GURRY TICKETS
Fri 28 Oct – Lighthouse Theatre Warrnambool, VIC – Warrnambool/Peek Wurrong
with Special Guest BRETT CLARKE SOLD OUT
Sun 30 Oct – Hamer Hall, Melbourne, VIC – Naarm Wurundjeri/Bunurong
with Special Guest BART WILLOUGHBY TICKETS
Fri 04 Nov – West Gippsland Arts Centre, Warragul, VIC – Boonwurrung
with Special Guest LOREN KATE TICKETS
Sat 05 Nov – Ulumbarra Theatre, Bendigo, VIC – Djadjawurung
with Special Guest DAVID SPRY TICKETS
Sun 06 Nov – Wendouree Centre For Performing Arts, Ballarat, VIC – Wadawurrong
with Special Guest NEIL MURRAY TICKETS
Fri 11 Nov – Canberra Theatre, Canberra, ACT – Ngunnawal
with Special Guests ALINTA BARLOW AND WILL KEPA TICKETS
Sat 12 Nov – Shoalhaven Arts Centre, Nowra, NSW – Yuin
with Special Guest KYARNA ROSE AND MATTY WALKER TICKETS
Fri 18 Nov – Costa Hall, Geelong, VIC – Wadawurrong
with Special Guest LUKE BISCAN and MICK RYAN TICKETS
Sat 19 Nov – Harvest Rock 2022, Adelaide, SA – Kaurna TICKETS