NOMINATED FOR ALT COUNTRY ALBUM OF THE YEAR
Gretta Ziller has been announced as a finalist for the 2018 Golden Guitar Awards for her brilliant debut album, Queen of Boomtown, nominated for Alt Country Album of the Year, alongside Brad Butcher, Fanny Lumsden, Kasey Chambers, and Shane Nicholson.
The full-length debut album from Gretta Ziller, Queen of Boomtown, released through independent record label, Social Family Records, was recorded at Woodstock Studios, Balaclava, and produced by New Zealand-born, Melbourne-based singer-songwriter Paul Ruske. Ziller brought together an impressive array of musicians to perform on the acclaimed album, the recordings featuring members of Saskwatch, The Cat Empire, and the bands of Angus & Julia Stone, Passenger and Dan Sultan, a duet with Henry Wagons, and accomplished songwriter Jen Mize providing backing vocals.
"I wanted to make an album that I'd still be proud of in 20 years time…it being my first album I was not expecting a nomination in the Golden Guitars at all! I'm honoured and I'm proud of Queen of Boomtown and I'm over the moon to be nominated for Alt Country Album of the Year!!" – Gretta Ziller
Ziller is preparing to head out on the road with Andrew Swift for the Great Australian Caravan Park Country Music Showcase, taking in 22 caravan parks in 22 days, before hitting Tamworth Country Music Festival for a number of performances, including the Opening Concert.
GET THE ALBUM HERE:
http://smarturl.it/GZ-QueenOfBoomtown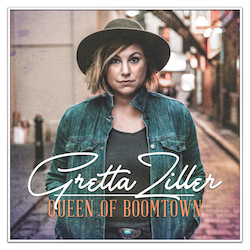 4 out of 5 stars – Rolling Stone Magazine
"…even when she's on the floor of 'the bathroom of regret', Ziller offers a poeticism that lifts the album into the realms of soulful refection…" – Jessie Cunniffe (Rolling Stone)
"She possesses an emotive tone that can soar like a country diva, holler like a blues singer and serenade with the sweetness of a soul temptress, making Queen of Boomtown a world class Americana debut." – Chris Familton (Rhythms)
FOLLOW GRETTA ZILLER
Facebook | Twitter | Website |Insta | YouTube | Spotify
Join Gretta's mailing list:  bit.ly/grettamail