Guitar legend Ian Moss's 8th studio album, Rivers Run Dry, is out today.
Fresh from his first band run through the United Kingdom, Mossy's metro Rivers Run Dry Tour kicks off in two weeks with his 2023 regional, solo acoustic dates commencing in October.
… his playing is intuitive and inventive, refusing to follow a script … Mossy's guitar work is as expressive as ever, and his vocal remains pure and fresh. Rarely has a rocker aged so gracefully – STACK Magazine (Jeff Jenkins)
Containing 12 tracks, Rivers Run Dry is a musical feast, co-produced by Ian and Brent Clarke, the album once more displays Mossy's well-documented guitar-playing genius and a voice that floats like a butterfly and yet can pack the punch of a Mallee bull.
The lead single from Rivers Run Dry, the anthemic, foot-to-the-floor radio smash, Nullarbor Plain, was co-written with the brilliant Troy Cassar-Daley, andhas been receiving radio love from both rock and country radio playlists around the country.
Ian's special guests for the metro shows are Alex Lloyd (Melbourne and Sydney), Julian Moss (Brisbane and Sydney) and Emily Barker (Perth).
As part of the Rivers Run Dry Tour fans have the opportunity to purchase VIP tickets to each of the shows which will give them the rare opportunity to go behind the scenes and watch Ian's soundcheck and run a few songs on stage.
Included in the VIP Experience (one per person/ticket price):

– Exclusive "Meet and Greet" with Ian Moss during soundcheck
– VIP "Rivers Run Dry" lanyard
– VIP Limited Edition "Rivers Run Dry" Stubby Cooler
– Ticket to the show and best seats available (where applicable)

VIP Experience packages are strictly limited (subject to venue seating) and no photos or videoing will be permitted during soundcheck. We prefer you sit, listen and enjoy this unique experience.
Photos, artwork and bio information can be downloaded from here.
Tickets for the Rivers Run Dry Tour are on sale now.
Rivers Run Dry is out now through Universal Music Australia.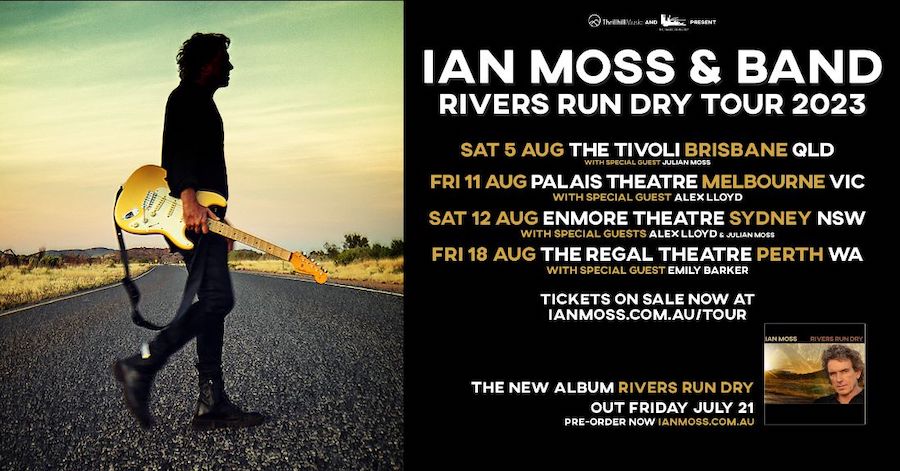 Saturday, 5 August 2023: The Tivoli, Brisbane QLD *
Special Guest: Julian Moss
Friday, 11 August 2023: Palais Theatre, St Kilda VIC *
Special Guest: Alex Lloyd
Saturday, 12 August 2023: Enmore Theatre, Sydney NSW *
Special Guests: Alex Lloyd and Julian Moss
Friday, 18 August 2023: The Regal Theatre, Perth WA *
Special Guest: Emily Barker
Special Guests to be announced:

Saturday, 21 October 2023: Glasshouse Theatre, Port Macquarie NSW #
Friday, 27 October 2023: Lighthouse Theatre, Warrnambool VIC #
Saturday, 28 October 2023: Hamilton Performing Arts Centre, Hamilton VIC #
Friday, 3 November 2023: Albury Entertainment Centre, Albury NSW #
Saturday, 4 November 2023: The Capital Theatre, Bendigo VIC #
Friday, 8 December 2023: Wangaratta Performing Arts Centre, Wangaratta VIC #
Saturday, 9 December 2023: Swan Hill Town Hall, Swan Hill VIC #
Friday, 15 December 2023: The Wedge, Sale VIC #
Saturday, 16 December 2023: Gippsland Performing Arts Centre, Traralgon VIC #
Thursday, 25 January 2024: Longyard Hotel, Tamworth, NSW *
With Band  *  |  Solo Acoustic  #
 
Tickets on sale NOW from ianmoss.com.au/tour or the venues