When Sydney wants to party, all that is missing is the perfect musical accomplice. Last night, it was the charismatic and legendary Billy Ocean. With his super slick 9-piece band and effortless performance, Ocean put the sizzle back into a freezing cold night.
After a sweet support set from the lovely Drea, the crowd kept pouring into the ambient venue. Stirring with the blended ingredients of music lovers, dancers and Billy Ocean devotees, the theatre became a hotpot. The excitement was building and you could feel the joy. This was going to be one fun musical evening.
When Billy made his way on stage, the room erupted. Looking sharp in his stylish suit and long, tied-back hair, he opens with One World. An uplifting song of hope and uniting the world, it was, interestingly, written before we went into our first lockdown. Then we are treated to old school classic Love Really Hurts Without You.
I could hear the first of many 'I Love You, Billy!' screams echoing across the lower levels, including one from an excited older man letting Ocean know exactly how much he adored him. This, in turn, raised the rowdy theatre crowd to an even more raucous level. The dancing was on, and Ocean had everyone lapping it up from the very beginning. I spied a few children in the crowd, no doubt getting a good musical lesson from their parents that 'this is a real artist, and this is how it's meant to be done'. It's never too early to impart our good musical tastes onto the kids and Ocean is 100% a part of that list.
Nights (Feel Like Getting Down) made it onto the list and then the lovely There'll Be Sad Songs (To Make You Cry) took us to a mellow soft spot before the tempo lifts again with Love Zone. Ocean is like smooth, cool silk, gliding across the stage, the perfect showman. Almost four exact years have passed since he entertained us, and he's proving that he has still got 'it'. It is more than fair to say that lockdown didn't slow him at all.
It's impossible to keep still when the supreme 80's tune Get Outta My Dreams, Get Into My Car begins. We burst out of our seats again and just let loose. This is too much fun to be had on a Thursday night. Ocean is such a charming and engaging performer, you are totally enthralled in each and every moment. To be able to crank the party up, then bring it to a level of glorious, soothing melodies with the next song, Colour Of Love, showcases the multiple layers of Ocean's appeal. This is why he is still selling out venues around the world.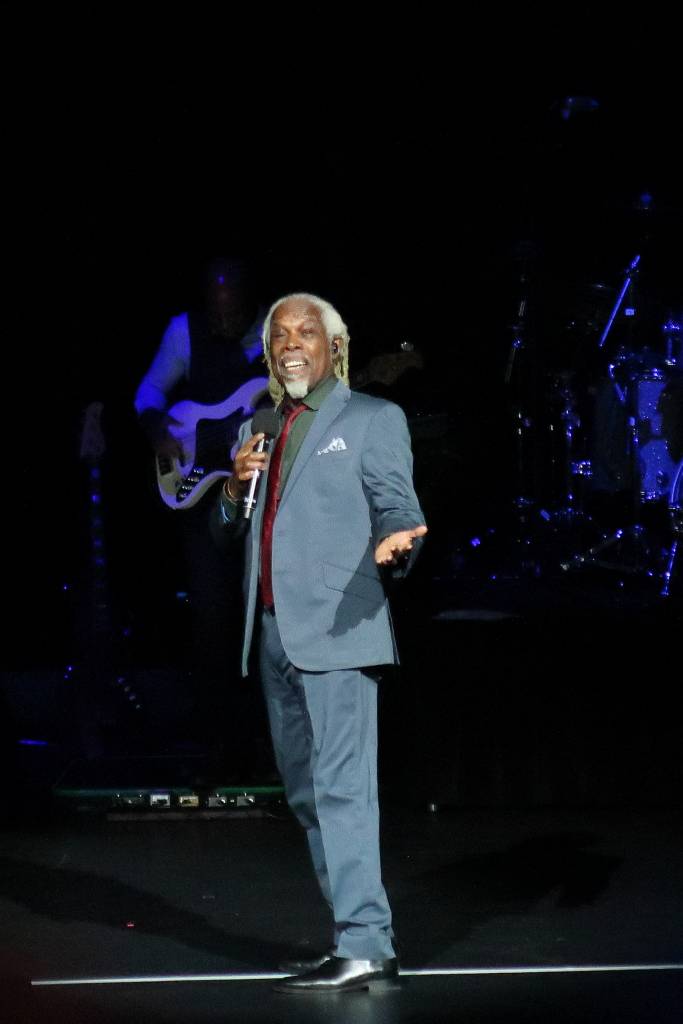 Next up, it's another favourite of mine, the catchy Red Light Spells Danger. You just can't sit still for these up-tempo songs as people clap, dance, sing and sway. It feels like a happy, intimate gathering of friends. The Bob Marley cover No Woman, No Cry follows us through to Mystery, another great track from the One World album. Then the very familiar first bars of Suddenly radiate across the venue. I'm not the only one who let out a huge 'aaahhh', it seemed to reverberate from every direction. What a gorgeous love song and one that can still make you float all these years later. It is just stunning.
Then, once again, it's time to kick this night up a few more notches as yet another favourite thunders and takes command. Loverboy, with that brilliant bass riff (which is still one of the best bass riffs ever) tears though the theatre and dance fever hits once again. How can it not? They sure don't make 'em like this anymore. To go from a song like this to another legendary track, When The Going Gets Tough, The Tough Get Going, we are truly spoiled.  You don't get a chance to sit as this is the time to relish and savour all the great music that we have been lucky to enjoy for so long. It is why the 'I Love You, Billy!' screams were so common as the night progressed.
No one is leaving as the main set is sadly wrapped up. The theatre is chanting 'Billy, Billy, Billy', with clapping and continuous cheering. Our encore of Caribbean Queen is going to be one hell of a performance and Ocean brings it, once again. Apart from being so suave and spritely, Ocean delivers such love and positivity through his music. We could all be thousands of miles away right now as we sing 'Caribbean Queen, now we're sharing this same dream' for the next few minutes until it's time for the deafening applause that brings this magical evening to its end.
What a night with the wonderful Billy Ocean. The fans are just euphoric and all I see are smiles and happy folk in all parts of the theatre as we make our way out into the forgotten reality of winter. Let's hope we don't need to wait another four years for a night like this. 
© 2023 MARINA KNEZEVIC (All Rights Reserved)
Love BILLY OCEAN, share this post with your friends!
Like our Facebook page HERE