Back in the 80s, Culture Club ruled the airwaves and their posters adorned my bedroom walls in what now seems a lifetime ago.  My cousin and I, like so many others, went to their Sydney concert attempting to dress like our controversial idol, Boy George.   It didn't matter that we had back row seating, we were just glad to be there.
Fast forward to 2016 and after a successful run of shows in June this year, the original members of Culture Club had returned for some encore performances.  Tonight, I was front row at Jupiters Casino, with no security pit to boot!  It doesn't get better than that.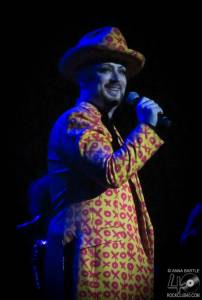 I didn't think it would be possible to top the two Sydney shows attended last June but, I have to say, tonight's show was a little ripper!  With the opening bars of 'Church of the Poison Mind', the excited crowd jumped to their feet and warmly welcomed the much-loved icons like old friends that were back in town.  It was then that Boy George, looking sharp in a vintage Versace coat and signature hat, strides in beaming with obvious delight that the punters were on their feet, ready to party.  And party they did!
We bopped away to 'It's a Miracle','I'll Tumble 4 Ya' and 'Move Away'.  The joy on the punters faces evident as their bedroom posters had suddenly sprung to life!  I'm sure I haven't danced this much since my 80's clubbing days and for a brief moment, as retro images flashed on the big screen, it was like we'd gone back in time.  The audience lapped up every moment as George entertained with his cheeky banter and wicked sense of humour.
We then swayed in unison to 'Everything I Own', 'Black Money' and 'Time (Clock of the Heart)', thankful for the change in pace so that we could catch our breath!  With the passage of time, it's easy to forget just how many mega hits Culture Club had but we remembered the lyrics as if it were only yesterday. What a wonderful catalogue of music to gift the world.  It is difficult to comprehend that this bunch of happy musicians caused so much controversy in their hey day and the barriers they overcame to become one of the biggest bands on the planet.  Good music and talent will rise above everything.
The band are touring with extra musicians consisting of percussion, keyboards and a horn section, that give the songs we love a fuller and much more exciting sound; creating an energy on stage that takes the performance to another level.  Whilst it would have been great to see Helen Terry on this tour, the extraordinary vocals of the three talented backing singers provided the perfect accompaniment to George's voice.
Always one to embrace new material from the bands I grew up with, I was happy we were treated to two new songs from the highly anticipated, yet-to-be-released 'Tribes' album.  Starting with the funky 'Like I Used To' and followed by the Sly Stone inspired 'Different Man', the new material is just as good as anything the band have previously released and I guarantee you'll be singing the chorus when the song is over!  One can only hope the new music receives the airplay that it deserves and that fans embrace and enjoy it.  Our beloved icons still have so much to offer so please get out there and support them.  If only they had added their recent single 'More Than Silence'.  If you haven't already, have a listen to this fabulous song and I'm sure you'll hit the replay button repeatedly!  It has already gone down in my list of all-time favourites.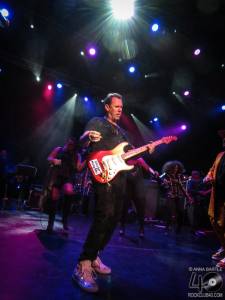 We were then treated to 'Miss Me Blind', 'Crying Game' and the ever popular, yet deeply personal, 'Do You Really Want to Hurt Me?'.  What a blast to hear these songs live.  I only wished they had slotted 'Mannequin' into the set list somewhere.  I would give anything to hear that song live!
It was then on to the beautiful and haunting 'Victims'.  George asked the crowd to be silent and they obeyed.  As Roy Hay sat at the keyboard, lights were dimmed and a spotlight focused on George, setting the scene for this gorgeous ballad.  Penned about the former relationship between George and drummer Jon Moss, one can only imagine how difficult it would have been to sing at the time.  Even now, it was emotionally charged.  You could have heard a pin drop as the transfixed crowd swayed as if in a mesmerised trance and I could feel a lump forming in my throat as I fought back tears.  What a performance!  Thank you for this moving rendition of one of my favourite songs.  George's rich, soulful voice, is the perfect instrument to convey the music we have loved for decades.  Deeper and a little husky with age, there is more warmth and a tone that can tug at your heart strings, possibly more so than it did back then.  This was definitely one of the highlights of the evening and I hope the band will re-record some of these songs so that we can enjoy the way they sound today.
The set concluded with 'The War Song' before the band went off stage and then returned with an encore of everyone's eternal favourite 'Karma Chameleon'.  It was during the chorus that Mikey Craig stood in front of me and turned the microphone my way.  Let's just say, my day job is safe!  The band engaged with the audience during the entire evening whilst covering every inch of that stage.  We couldn't help but smile at Hay's 'Chicks Hate Me' guitar sticker as he bounced around that stage with every ounce of energy he had.  Appearing relaxed and happy, the band seemed just as glad to be there as we were.  Next up was a touching tribute to Prince with 'Purple Rain' and a smashing version of 'Bang A Gong (Get in On)' by T-Rex to finish the night on a high.  This was when everyone really let loose, the crowd was jumping and the band were jamming and giving it their all. This was definitely a moment to savour.
Leaving the venue with set list in hand, we walked out sad that it was over but satisfied and happy that new memories were created.  There is only one thing left for me to do and that is to find myself a pair of Hay's dazzling diamante sneakers.  Just like the new album, they are a must!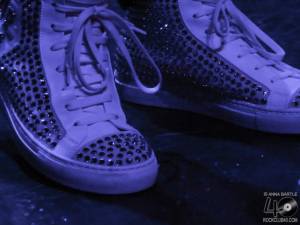 Setlist:
Church of the Poison Mind
It's a Miracle
I'll Tumble 4 Ya
Move Away
Everything I Own
Black Money
Time (Clock of the Heart)
Like I Used To (new song)
Different Man (new song)
Miss Me Blind
Crying Game
Do You Really Want to Hurt Me
Victims
War Song
Encore:
Karma Chameleon
Purple Rain
Get It On (Bang a Gong)
by Anna Bartle (rockchique photography)
© Anna Bartle 2016 All rights Reserved