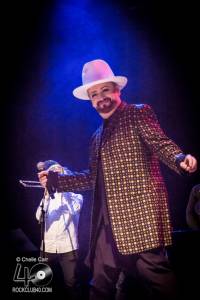 Sunday night was a first for me. It was my first concert at the Myer Music Bowl in Melbourne and it was a true celebration of 80s music headlined by none other than Culture Club who were touring Australia for the second time this year, this time playing a bunch of mostly outdoor shows around the country, largely in regional areas. Melbourne was, in fact, the only capital city that got to see the band this time around and our list of support acts was an impressive line-up of eighties artists including Wa Wa Nee, Real Life, Pseudo Echo and Eurogliders. For reasons that are unclear, 1927 were pulled from the line-up at the last minute thus, it seems, allowing Pseudo Echo more time on stage or was that just my imagination?  Paul Gray strapped on the keytar once more as Wa Wa Nee kicked off the show and got the crowd dancing from the very beginning with songs like 'Stimulation' and 'Sugarfree'.  David Sterry joined the band on stage for a couple of Real Life hits, 'Catch Me I'm Falling' and 'Send Me an Angel' before Pseudo Echo took to the stage ahead of schedule for their set which included such songs as 'Beat in My Heart' and finishing off with the one that always gets the crowd going, that perennial favourite, 'Funkytown'. By now, as the sun was setting behind us, the crowd was well and truly warmed up and pumped as Eurogliders began their set and Grace Knight, dressed in her own design, a black and white checkered pantsuit, danced her way on to the stage and the band kept the 80s vibe happening with hits such as 'Heaven Must Be There', and 'We Will Together'.
And now, after a short break, it was time for the band everyone was waiting for. As the members of Culture Club appeared one by one on stage, the fans moved in closer and Boy George finally made his entrance to the loud, excited cheers from the crowd who were definitely ready for a night of Culture Club classics and already on their feet for dancing.
They began their set with 'Church of the Poison Mind', 'It's a Miracle' and 'I'll Tumble 4 Ya'.
The band were sounding tight and George's vocals were right on target as was his wit and rapport with the audience. The singer was delightfully engaging with the mixed crowd and the banter kept the show flowing nicely between songs.
Commenting on the changeable Melbourne weather, he noted that the days are warm and the nights are cold. 'Perfect drag queen weather,' he quipped.
Pointing out that there were 'A few gay men here tonight,' the singer added 'And that's just on stage.'
And, summing up the cross section of people in the audience, he remarked 'If Noah's Ark was here, we'd be fine. We have two of everything.'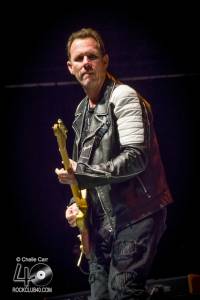 While mostly consisting of the band's original material, the set did include a few covers, including a slow reggae version of Bread's 'Everything I Own'. The highly emotive 'Black Money' which George sings with backup vocalist Theresa Bailey is always a favourite and the one that really started it all for Culture Club, 'Do You Really Want to Hurt Me?' drew loud cheers and applause from the Melbourne crowd. But, of course, the biggest response was reserved for the encore when, with a quick costume change, the band returned with their biggest and best known hit 'Karma Chameleon', a song that will be forever linked with Culture Club and Boy George. Then, bathed in purple light, the band paid homage to the artist, Prince, who passed away earlier this year, with a cover of his hit 'Purple Rain' and closed the show with 'Bang a Gong (Get it On)' a song from 70s glam rock band, T-Rex.
We will definitely be seeing George in Australia again soon as he returns next year as a judge on The Voice for the Nine Network, alongside Delta Goodrem and Seal and who knows? More from Culture Club?
The set list for Sunday night's show was:
Church of the Poison Mind
It's A Miracle
I'll Tumble 4 Ya
Move Away
Everything I Own (Bread cover)
Black Money
Time (Clock of the Heart)
Different Man
Like I Used To
Miss Me Blind
Do You Do You Really Want To Hurt Me?
Victims
The War Song
Encore
Karma Chameleon
Purple Rain (Prince cover)
Bang a Gong (Get It On) (T-Rex cover)
Click here to view gallery.  Thanks to Chelle Carr Photography.
Read our Jupiters Casino review here
by Sharyn Hamey