We all knew Australia's biggest ever dance party, The Summer Series, was going to be a night of decadence, the ultimate treat of all treats.  Just thinking about this evening of musical indulgence was enough to make even the most ardent of music fans salivate.  There are so many memories and emotions evoked when you think of these iconic bands and their music.  Memories of love or heartbreak, family get togethers, fun nights dancing away with dear friends at parties and clubs, or just shaking your booty in your bedroom and singing into a hairbrush.  We grew up with their music and it felt like old friends were coming to town.
This was a genius line up from MJR Presents, a perfect match for our steaming Australian summer, as Aussies and guests from across the country get ready to come out and play. Our extravaganza started early and many locals were already at the Adelaide Entertainment Centre as we arrived. Sequins and sparkles made quite a few appearances on the attire of some passionate fans as they glistened their way into their seats, preparing for an onslaught of hit after hit. I also spotted some bright wigs and platform heels along the way.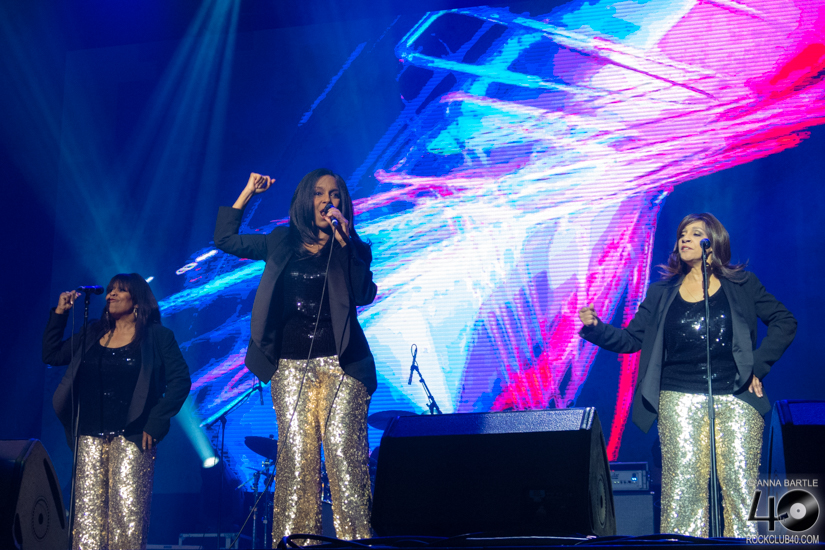 It was a great way to kick off the night with the wonderful Sounds Of The Supremes. Led by late 1970's and 1980's Supremes member, Kaaren Ragland, this was a stellar performance. Looking and sounding like they have just stepped out of Motown itself, it was a very sweet set of choreographed classics to get us all moving and grooving. 'You Can't Hurry Love', 'Where Did Our Love Go',  'Baby Love' and our finale of 'Stop In The Name Of Love' were just some of the unforgettable tracks setting our musical scene for the night. Cracking vocals from all the ladies too, and we witness the first looks of 'stage joy', which I notice from all bands throughout the concert.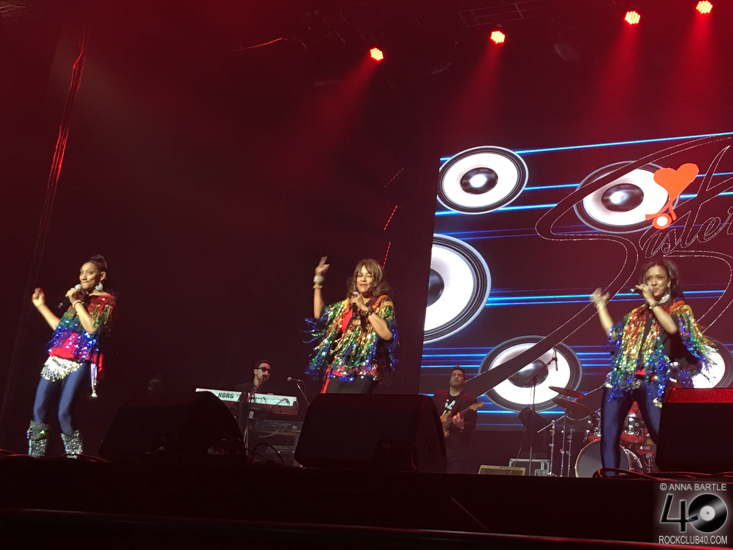 This 'stage joy' continues as we ramp it up a notch with Sister Sledge and savour some 70's and 80's disco, funk and pop. 'All American Girls', then a song from my youth 'Frankie', 'He's The Greatest Dancer' and 'Good Times'. What dancing bliss this is. Once again, all the ladies (and gents) looked and sounded a million bucks and you could feel the happiness that was radiating from the stage. There were so many gems and it was surreal to finally hear the timeless anthem of 'We Are Family' by the very band itself. If you actually think of how many times you have danced to these songs over the decades, it's an astounding number. What a night so far, with all these musical dreams coming true and with much more to come. These feet have barely stopped moving as the tempo (and temperature) rises again when the next act hits the stage.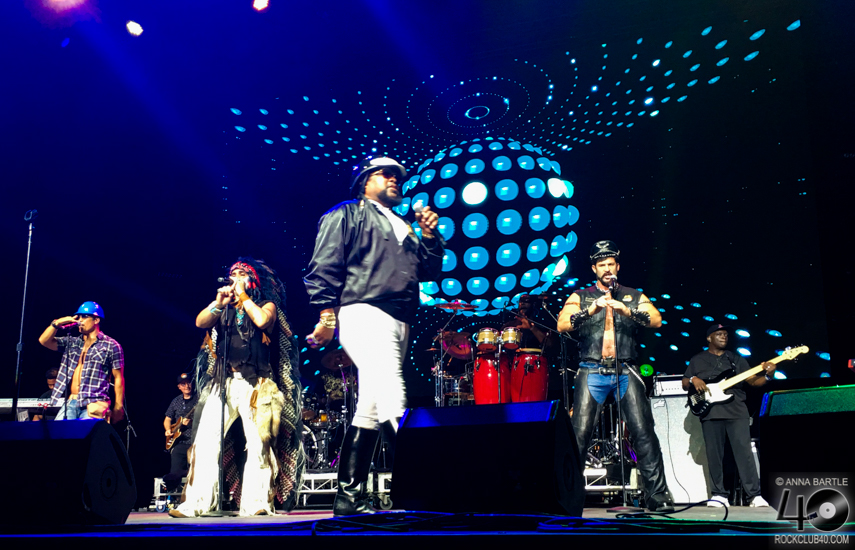 Disco legends The Village People, with founding member Victor Willis leading the way, gave us a non-stop party set including 'You Can't Stop The Music', 'San Francisco (You've Got Me)' and another crowd favourite of 'Macho Man'. Too much fun is being had as we dance and sing and enjoy these enduring songs. The venue is pumping as everyone brings out their best moves to 'Go West', 'In The Navy' and our final song of 'YMCA'. The crowd working with the band to the choreography of our last tune and multi generations lapping up all this brilliant music. The sweat is starting to take hold now and it's just a relentless night of musical celebration.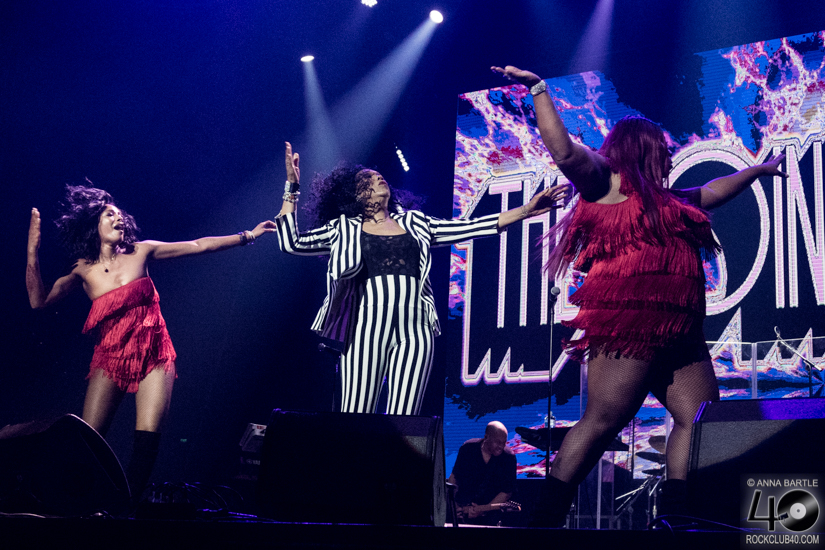 Once again, the stage goes through another change preparing for the next band, which is an amazing feat in itself, then there are more talented ladies that I have been longing to see, The Pointer Sisters!  They are so good, with glorious vocals on 'Happiness', and 'He's So Shy'. Ruth Pointer is just owning the stage, with her daughter Anita and granddaughter Sadako, completing the dynamic trio. The pace gets more frantic with 'I'm So Excited' and 'Neutron Dance', I can barely keep up, and as I look around, the venue is thumping. Slick and sexy, this is another dream set as the night progresses and we can hardly contain our excitement as the ladies kill it on our encore track, 'Jump (For My Love)'. Exuding endless talent, personality and delight, each woman was a force and I'm looking forward to another Pointer Sisters gig one day as this wasn't enough!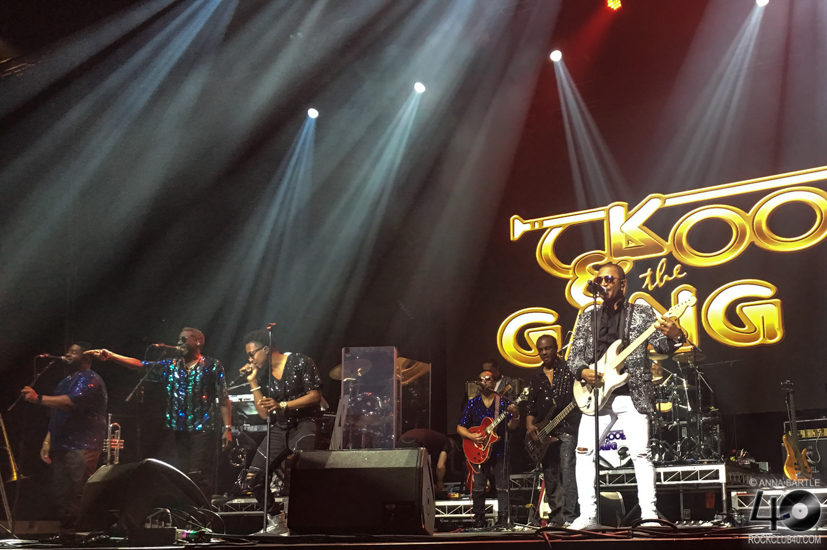 This brings me to the wondrous Kool & The Gang…. WOW. I've waited a long time to see this band live, and after speaking to a super fan who has seen them a few times, she agreed that this performance was something else. Nearly a dozen band members on stage just going for it, 200% all the way. We started with 'Tonight' and then moved into R&B favourite 'Fresh'… Gosh, how can you not be dancing like a maniac? Smooth and effortless vocals with faultless musicianship, every song was magic. 'Too Hot' and 'Open Sesame' were beyond brilliant live, that brass section was in perfect sync, and hearing it in the flesh just gave the song more depth, if that's even possible. I'm so taken in by the band's stage presence, I won't be able to listen to KATG the same ever again. What a set! 'Jungle Boogie', 'Hollywood Swingin', 'Ladies' Night' and 'Get Down On It'. Epic performances and an apt final track with party anthem 'Celebration'.
We are well and truly limber by the time The Jacksons appear. Covered in sweat and getting hotter, I ignore my sore feet and relish what is about to unfold. The Jacksons are so revered that members from every other band of the night made their way to some hidden benches behind the front stage barrier. Ready to watch, film and absorb their own idols in full flight, it's such a beautiful sight that I actually get a little emotional feeling all the love and adoration being shown towards the four prodigious talents on stage. What a legacy we are witnessing as the first bars of 'Can You Feel It' start our set. So sharp, polished and cheerful, every brother is in their own element with their masterful back up musicians. Not a note is missed as we dance away to 'Blame It On The Boogie', Michael Jackson's classic 'Rock With You' and 'Enjoy Yourself'.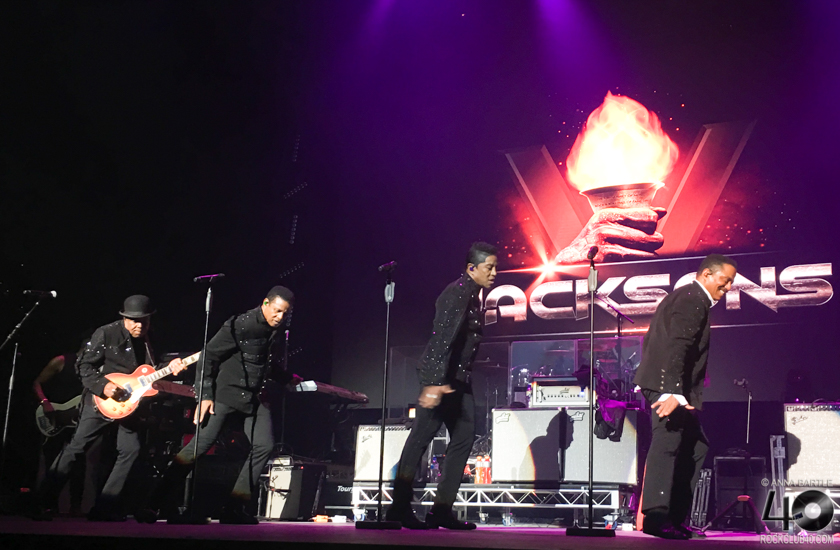 The crowd erupts even more as we move through the set and get a little Jackson 5 medley which includes 'I Want You Back/ABC/The Love You Save/Dancing Machine'. It's just one classic track after another, including 'Never Can Say Goodbye' and 'I'll Be There'. We have been partying for nearly 5 hours and the energy has just gotten stronger, we are feeding off these legends on stage and everyone is devouring as much as they can. The signature Jacksons choreography is at its best, as Jackie, Tito, Marlon and Jermaine just float around the stage effortlessly. How can we top everything we have heard and seen tonight? I think, with our double cherry on top, the ultimate closing songs of 'Wanna Be Startin' Somethin' and 'Shake Your Body (Down To The Ground)', sending us away in a final musical euphoria. A standing ovation follows as we clap and cheer in awe and wonder at the brilliance we have once again observed. The Jacksons are in such top form, it's inspiring.
This was an exceptional night of entertainment; classy and superior performances, with every band bringing their 'A' game. Their own individual personalities shining through as they then work together to gel and flow as one. Giving us everything they had, that we wanted, and more. We've been spoilt on this tour, and I can only say that it was an absolute pleasure to experience true natural talent in such close proximity. Some humans are just so darn lucky, and we are more than fortunate that we still get to have these geniuses touring in 2019. Who would have ever thought that would still be? We can thank the Heavens for that!
 © MARINA KNEZEVIC 2019.  All Rights Reserved.
Share this post with your friends!