Sydney was in desperate need of some sizzling on Friday night. As we battled through some freezing winter temperatures, who better than the wonderfully talented Mr Billy Ocean, to not only help us defrost, but to bring us a party mixed with dance, romance and funk.
I will confess now, as a youngin', I would obsess over 'Caribbean Queen'. Anyone who knew me well would have heard that song on replay, and it's still on regular rotation all these years later. Those were the days in the 80's. A cassette recorder, and your TDK tape is on record/pause, ready to record the favourite hits of the day. We had 'Barry Bissell' and his 'Take 40' radio show every week, which was such an important show for us young kids who didn't have the dough yet to purchase our own music. What memories to take with you as we are about to see the very man himself.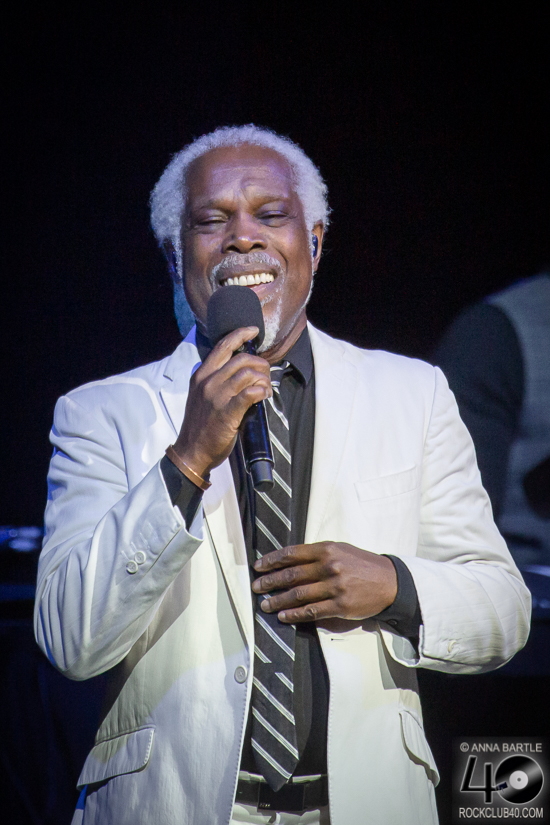 After a heartfelt and enjoyable support set from our very own Jason Ayers, it was time. Dressed to the nines, hair immaculately coiffed, Ocean glides across the stage and kicks in with some old school funk with 'Are You Ready'.  This moves into 'Upside Down', 'Pressure' and 'Nights (Feel Like Getting Down)' before we move into some 'Love Zone'.
Ocean looks and sounds phenomenal, with strong and confident vocals, he's a true natural. Such a pleasure to listen and watch, Ocean's dance moves get the crowd riled up quite a few times during the night. We could be anywhere, in any time frame of Ocean's career, kicking back in a lounge in the 70's, or dancing in a club in the 80's. These timeless songs are still so fresh after all these years.
As the first bars of this next song start, the crowd just erupts and, from what I could see, mostly ladies swarm the stage. It's the classic 'Love Really Hurts Without You' … aaahhh… This party has just moved up a gear and it's dance time. Ocean is exactly what us Sydney-siders needed tonight and we wonder how many more brilliant tunes will be heard from this highly successful artist. A gorgeous 'The Colour Of Love' and then we get some treats from Ocean's more recent work, beautiful renditions of Bob Marley and The Wailer's 'No Woman, No Cry' and Sam Cooke's 'A Change Is Gonna Come'.

As the night flows, we are taken through many different emotions: love and happiness, fun and reflection. 'Stay The Night' continues the funk as 'Red Light Spells Danger' (which I loooove hearing live) gives us some Motown flavour. Ocean is a joy to witness on stage, warm and exuberant, you can feel that he is just as happy to be here, as we are to see him. I can hardly believe that it's taken me this long to see Ocean and that we are so fortunate to have artists like him still touring.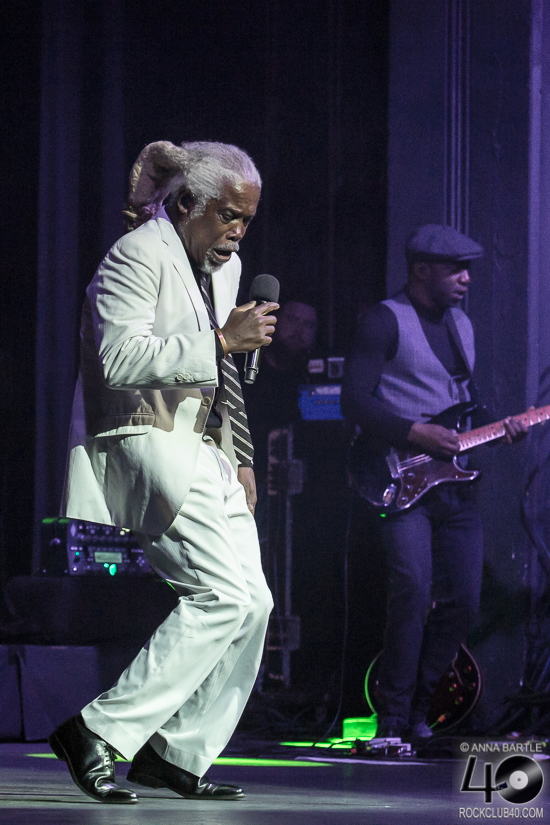 When the heavenly love song 'Suddenly' begins, I honestly lose my breath. The crowd just melts and everyone is in sync, singing and swaying. They don't make 'em like this anymore. Absolutely stunning! Ocean's vocals are smooth and dreamy like an exotic Caribbean sunset. I'm quite in awe, to be honest. Then we hear the start of saucy 'Loverboy' and that killer bass riff. Wow, smokin'! The Enmore Theatre is cranking and it's on, everywhere you look, it's young and old, pulling dance moves and singing away. The frisky crowd is totally letting go, and a fan at the throng of the stage hands Ocean what appears to be some panties… Well, Sydney, you certainly don't hold back when particular artists pay us a visit. I think it's been a while since I've seen underwear being gifted on stage. Ocean is a class act, and accepts the moment as gracefully as you can while still singing.
The craziness doesn't stop as yet another track is released from Ocean's treasure trove. The iconic 'Get Outta My Dreams, Get Into My Car'. It's full on party mode now as we all dance, sing, and make happy faces with each other, anticipating the last songs of this amazing setlist. Of course, it's 'When The Going Gets Tough, The Tough Get Going' up next. Gigs like this are so special. There is nothing more pleasurable than seeing an artis​t of the caliber of Ocean, with an excited and responsive crowd. So many amazing songs, Ocean and Sydney were as one last night. If only every Friday night could be like this.
A standing ovation follows as Ocean and his superb band leave us wanting more. No one is moving. All I can hear is clapping, cheering and whistling as we then get the encore of our dreams. Yes, my 8 year old self has taken over and all I can feel are stomach butterflies as 'Caribbean Queen (No More Love On The Run)' begins. I try to contain myself and not shed a tear while dancing and singing away. What a song, and what a night. Ocean continues the love fest, and the fans comply, as he prompts the song being sung in a capella style, after the official version has already ended. This is a very satisfied crowd and once again Ocean and band are given a standing ovation.
What a career and legacy Ocean has after all these decades; the venues are still selling out and fans are clamouring to see and hear some of that Ocean magic. This is real talent and real music. Ocean is a cut above and deserves his legendary status. I just pray that some more of that Ocean brilliance comes our way again one day.
© MARINA KNEZEVIC 2019.  All rights reserved.
Love the fabulous BILLY OCEAN?  Share this post with your friends!