Sunday Mass came late yesterday in Sydney, as the ever faithful braved the wild winter weather and packed out the Metro Theatre to get some more of that Tea Party divinity. The popularity and loyalty towards this phenomenal band just doesn't waiver after all these decades, and we are always spoiled when Australia's favourite adopted sons decide to entertain us once again.
After a powerful support from 'Red Bee', these iconic Canadian treasures made their way across the stage, like they have done hundreds of times before when touring Australia, and the anticipation from the crowd is as fixated as always. Knowing what's to come, but not knowing which brilliant songs will make up tonight's set list is one of those treats with bands like the Tea Party. Then there are the looks of unity and understanding between the fans, which is a part of this unique bond when we all converge for these special nights.
A cracking 'The River' starts tonight's show and it's back to the old school. That thundering, yet crystal clear, Tea Party sound is already at a record pace and the venue is pumping. Blistering through 'The Bazaar', the band are in their typical superior form. Martin, with his natural and warm banter between songs, is commanding and keeps in sync with the crowd. Not just a well oiled machine, our Tea Party are perfection in musical form. We don't care which tracks are played as long as we get our annual Tea Party smorgasbord.
Some 'Psychopomp' and 'Way Way Down' make the cut until a stirring 'Release' vibrates across the venue, with Martin's vocals strong and absolute. This vocal gift of Martin's is forceful and emotional, yet delicate when required, weaving in and out with the brilliant Burrows and Chatwood. Such a pleasure to observe as well as listen to live. It's an experience unto itself and a legacy this accomplished trio should be more than proud of.
We love the intertwining tunes and tonight there were a few. We get one of my favourites, 'Zahira/Favourite Son/Halcyon Days', and then a killer 'Save Me/Last Goodbye'. It was like decades had never really passed us since we first heard this song live; that Tea Party flawlessness is consistent. I have to say, I do love it when we get this 'Heaven Coming Down/With Or Without You' mix live. Martin's vocals just bring such depth to this U2 classic, and we hear this song in a way that I don't think others have ever been able to lift it up, to this particular level.
'The Ocean At The End' is another track I'm very glad made the list last night. Atmospheric and multi layered, it's just such a showpiece when played live, taking you on this journey, with yet another masterful guitar solo from Martin. 'Black River' then cranks it up a notch until the heavy and fierce 'Temptation' takes it up a gear once again. We are treated to a male fan who is overcome and out of nowhere makes a random stage dive, much to all our amusement. Martin comments after the song 'What year is it?' Well it's not the 90's anymore when stage dives were de rigueur, but we will take it as a sign of affection.
The first of our ovations makes waves across the venue, as the devoted clap, cheer and whistle for some more. After being told by Martin during the gig that we won't see the band for a while, we are not moving until we get some more to send us away blissfully into the night. An apt 'Winter Solstice' Martin acoustic starts our encore as we get another otherworldly live version of 'Sister Awake/Paint It Black/Heroes/Sister Awake' to finish us off…. aaah yes… that's hit the sweet spot. We may just be able to make it through to next year until another tour is locked in.
This Tea Party magic just gets more potent as the years roll by. You close your eyes when some of these songs are playing and you could be back at Uni again, on a night out, at one of these intimate, yet dynamic venues, with the Tea Party tearing the place apart. With over 25 years of touring in Australia, and more to come, I cannot see us cutting our Aussie ties with these sensational rockers in our lifetime. And that's just the way we want it.
© MARINA KNEZEVIC 2019.  All rights reserved.
You can still catch The Tea Party on the dates below.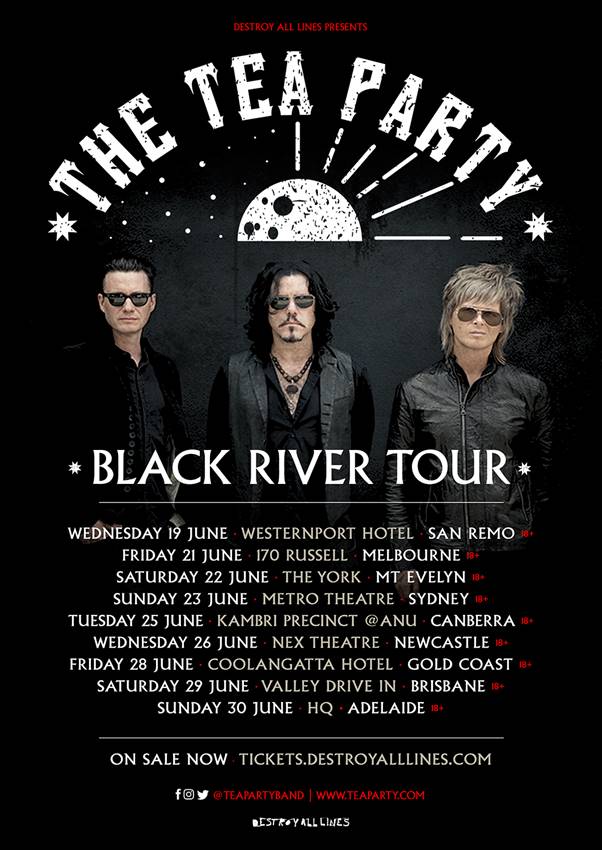 Love the fabulous TEA PARTY?  Share this post with your friends!