What better way to celebrate the timeless music of The Beatles than at the iconic Sydney Opera House with some of the finest Australian musical talents.
This tribute show featured 4 insanely talented vocalists: Jack Jones, Ciaran Gribbin, Rai Thistlethwayte & Jackson Thomas. They were accompanied by The 35 Piece Strawberry Fields Rock Orchestra who added an extra element of depth and atmosphere, enriching the songs we all know and love.
ALL YOU NEED IS LOVE featured 30 Beatles masterpieces including Yesterday, Let it Be, Hey Joe, Eleanor Rigby, I am the Walrus, Across the Universe, Something, and Yellow Submarine among many. With so many fabulous and upbeat songs, it was difficult to sit still, and by the time we heard Yellow Submarine, the enthusiastic crowd were already on their feet dancing to the music.
The uniqueness of each vocalist and their tone, the amazing orchestra, the lighting and the effects were all truly mesmerising. I took a glance at the audience and they were not only grey haired baby boomers, but also many young people who were lucky enough to be introduced to this kind of beautiful music. While the world yearns for brilliant songwriting and music, it was a pleasant sight to see so many appreciative young fans amongst the crowd.
After the superb performances, it was clear to see why The Beatles are still revered around the world and why they have dominated as the no. 1 musical act of all time since the 1960's. It's so easy to fall into the trap of thinking that their music is so simple, but it's not the case. When these fantastic vocalists were singing and the orchestra playing, it occurred to me that The Beatles have a certain level of complexity to their music that the world had never seen back then. That is still the case today – they are an incredible group of talents who wrote and composed some of the best tracks ever recorded. Many artists have taken inspiration from their music and it's so easy to see why. I feel so lucky to have attended the show.  
My one word to describe the evening: Magical!
© PRAJWOL BHATTARAI (Silver Fox Photos) 2019

Click on image below to view gallery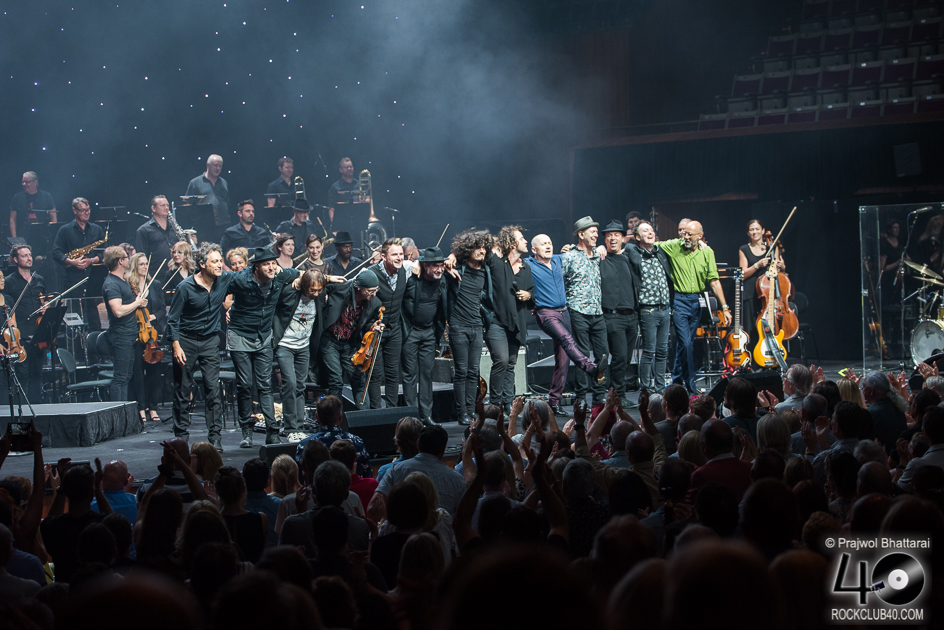 www.facebook.com/BeatlesLiveAustralia
#allyouneedislove
ARTIST INFORMATION:
JACK JONES : Since his time as a multi-platinum selling artist as the lead singer/guitarist of Southern Sons, Jack has gone on to international acclaim performing with Matchbox Twenty, Whitesnake, Judas Priest, Spandau Ballet, Tears For Fears, Alice Cooper and Carlos Santana.
He continues to tour internationally and has previously won HMV Album of the Year and nominated in the Best Rock Band category in the MusicOz Awards.
CIARAN GRIBBIN: In 2011, Ciaran made the big move from Northern Ireland to Sydney, Australia to join INXS as their singer and co-songwriter and has since toured extensively with them to much acclaim throughout South America, Europe and Australia.  Pre INXS, Ciaran played countless shows with artists including Paul McCartney, The Script and Gotye. As a songwriter, he co-wrote Madonna's Grammy nominated Celebration and has co-written Hey Baby Doll, a big, on-camera song performed by Al Pacino in the new movie 'Danny Collins'.   In September 2013 he performed at the 'Rock In Rio' music festival followed by a week in Los Angeles for talks and meetings with movie music supervisors and co-songwriters. Ciaran has just signed a new worldwide agreement (excl. ANZ) with the Snow Patrol owned publishing company Polar Patrol Music Ltd.
RAI THISTLETHWAYTE:  Rai is one of Australia's most respected musical talents: a highly accomplished pianist, guitarist, vocalist and songwriter. His band Thirsty Merc has sold over 250,000 albums and has been nominated for 5 ARIA awards.  Aside from his work in Rock and Pop, Rai performs as a solo artist, basing his performance around his first instrument – piano – and his love of Jazz, Soul and Funk Music. He has released four solo EPs and has toured extensively in Australia and the US since 2012.
JACKSON THOMAS: Jackson is a Melbourne based musician who came to the Australian public's attention  on The Voice 2014. Finishing 2nd, he knocked out all of the "favourites" of the show to be Ricky Martin's last man standing.  After The Voice he toured with Ricky Martin in May 2015 and opened for Robbie Williams 2014 tour. Jackson has a rare quality that captivates an audience and moves people emotionally.
Share this post with your friends!