One of Australia's best known musicians, Diesel, has just released his much-awaited studio album, Alone With Blues.
Featuring 11 great blues tracks, what makes Alone With Blues particularly special and a stand out is that it is Diesel's first completely solo album where he played all the instruments and recorded it in his Sydney studio during the 2020 Covid go-slow.
As I listened to the songs, I was blown away by Diesel's musicianship, his iconic vocals and his mastery of the instruments including guitar, double bass, blues harp, percussion and so on. Mastering one instrument is a big deal for many people, yet he has played everything as if he had a full set of session players with him in the studio. A one-man band, it is a remarkable achievement and I cannot stress enough how amazing this is in itself. Hats off to him.
With a diverse selection of songs, the album pays tribute to the greats like Muddy Waters, John Lee Hooker, Otis Rush, Sam Cooke, Leadbelly and Magic Sam, but closer to home, an Australian legend, too. A surprise addition is lead single, 'Six Steel Strings', an upbeat number that was co-written with Ross Wilson (Daddy Cool, Mondo Rock) three decades ago but only resurfaced recently in a storage container full of cassettes. Diesel explains:
"It was 1991, I think Ross saw me as a young bluesman in a long tradition. He asked about my background and put details into the lyrics, a tongue-in-cheek take on my life story in demo form that we knocked up together in an hour. It was only rediscovered when he moved house last year, and the timing couldn't have been better because it's such a perfect fit."
Alone With Blues also pays tribute to Willie Dixon, Jimmy Reed and the late, great Chris Wilson, Diesel's partner on the Wilson Diesel Short Cool Ones LP (itself celebrating its 25th anniversary in 2021).
"I put a lot of effort into my harmonica playing on this record" says Diesel, "Chris pushed me to play more harp, which was difficult when I was standing next to him, y'know? But he was always encouraging so what I play on this record, I play for Chris and for Michael Gudinski too, he's the one that put Chris and I together in the first place."
For a change of pace, there is a stirring, hypnotic version of Sam Cooke's Lost and Lookin' which was stripped back to just double bass and vocals. "Sam is a benchmark singer for me", says Diesel, "if there's any one person I want to sound like, it's him. His phrasing is insane, immaculate." Have a listen to the vocals below and enjoy the stunning simplicity.
Alone With Blues is a feast for anyone who loves the good old blues with a modern twist and recording quality. Although made in solitude, the songs are rich, layered, moody and atmospheric; just what you want from a good blues album. With 6 ARIA Awards to his name, and two albums already reaching number 1 in ARIA charts, I am expecting a similar feat with this remarkable new release.
Alone With Blues was released on July 16 and is available for your listening pleasure at these outlets.
Keep an eye on Diesel's touring schedule as nothing sounds better than live concerts!
© PRAJWOL BHATTARAI (Silver Fox Photos)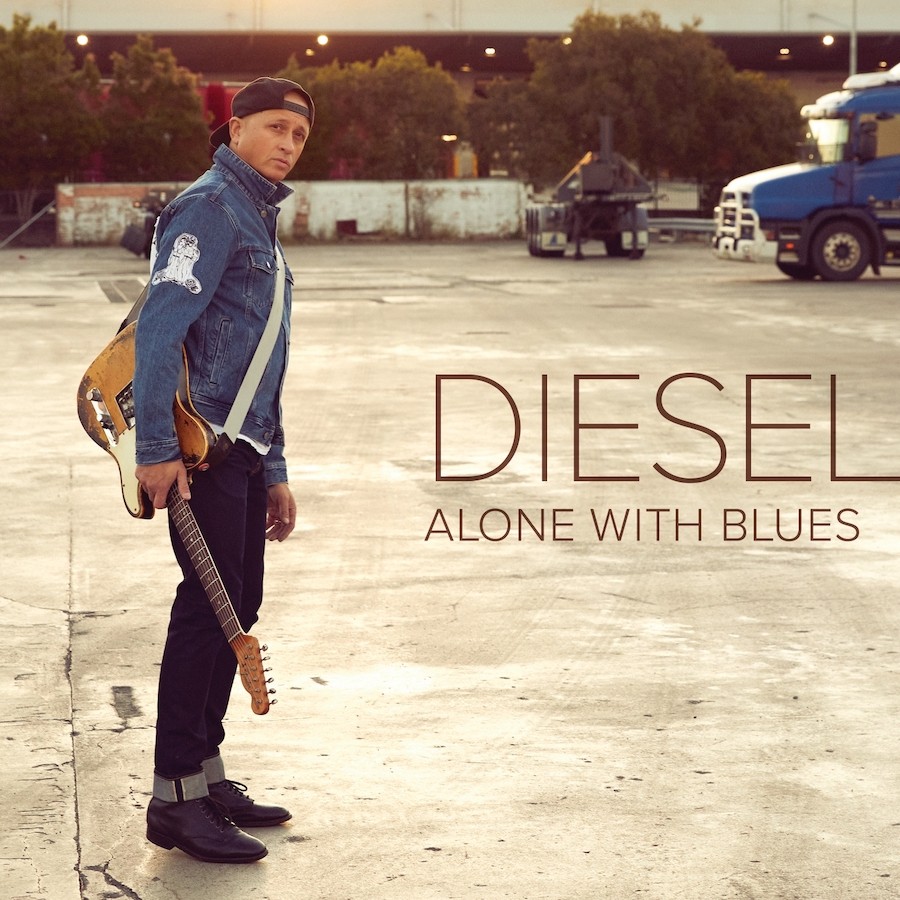 Alone With Blues tracklisting:
1. I'm Satisfied
2. Shame, Shame, Shame
3. Lost And Lookin'
4. Hoochie Coochie Man
5. I Can't Quit You Baby
6. Boogie Chillen
7. Six Steel Strings
8. All Your Love
9. Work Song
10. Mirror Blues
11. Where Did You Sleep Last Night?
For more info:
dieselmusic.com.au
facebook.com/officialdieselmusic
Instagram @diesel_music
youtube.com/officialdieselmusic